Simple Facebook Audiences To Generate More Leads
Have you tried Facebook Ads and are not seeing good results?
Are you fed up of wasting hours to figure it all out and trying out different targeting options, images, and copy? You're beginning to wonder why other businesses achieve amazing results, yet somehow you can't make it happen.
Here's the thing. You're missing a lot of opportunities with Facebook ads if you are NOT showing to the people who are ALREADY INTERESTED in your business. Why wouldn't you want to advertise to these people? It makes perfect sense after all.
Yes you heard it right. Facebook allows you to target people who have already shown interest to your product and services. You might not aware about this because Facebook constantly updating its Ads platform and releasing new features.
That's the reason why this article is created, to give you idea what you can do to make your Ads successful by targeting the people who express interest in your business.
So without further ado, let's look at how to do this.
Simple Facebook Audiences To Generate More Leads
Website visitors
Let's say that you've added your pixel and verified that it's correctly installed. When someone visits your site, the pixel is triggered and their name added to an audience on Facebook you can target with nurturing ads. See below.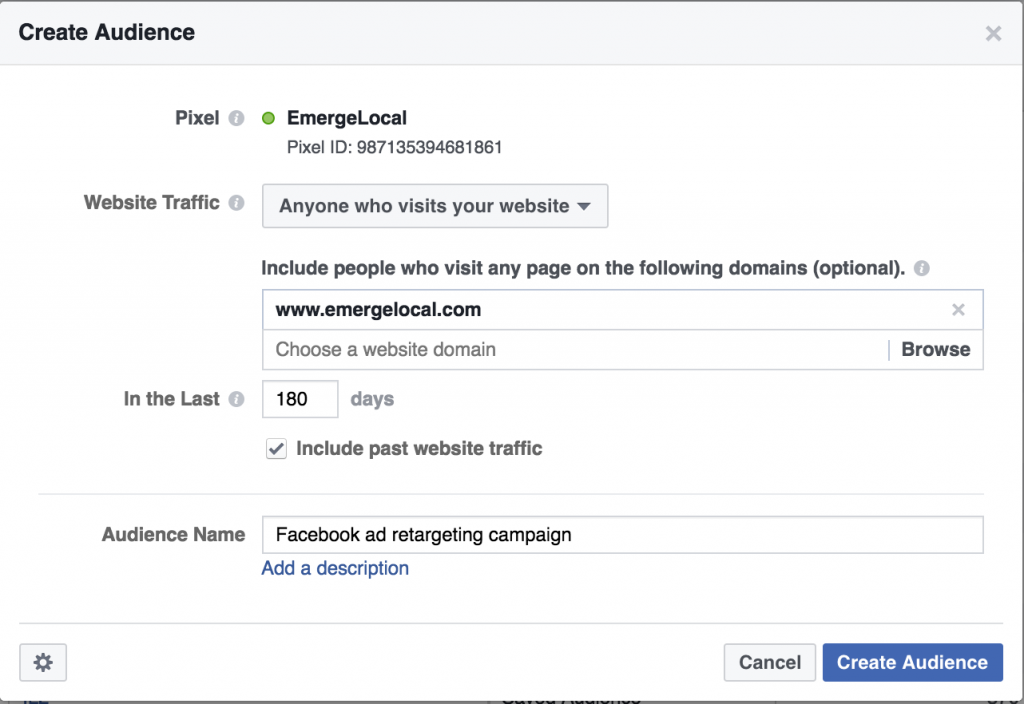 Facebook can help you build a Website Custom Audience (WCA) from a specific page. Check out the screenshot below.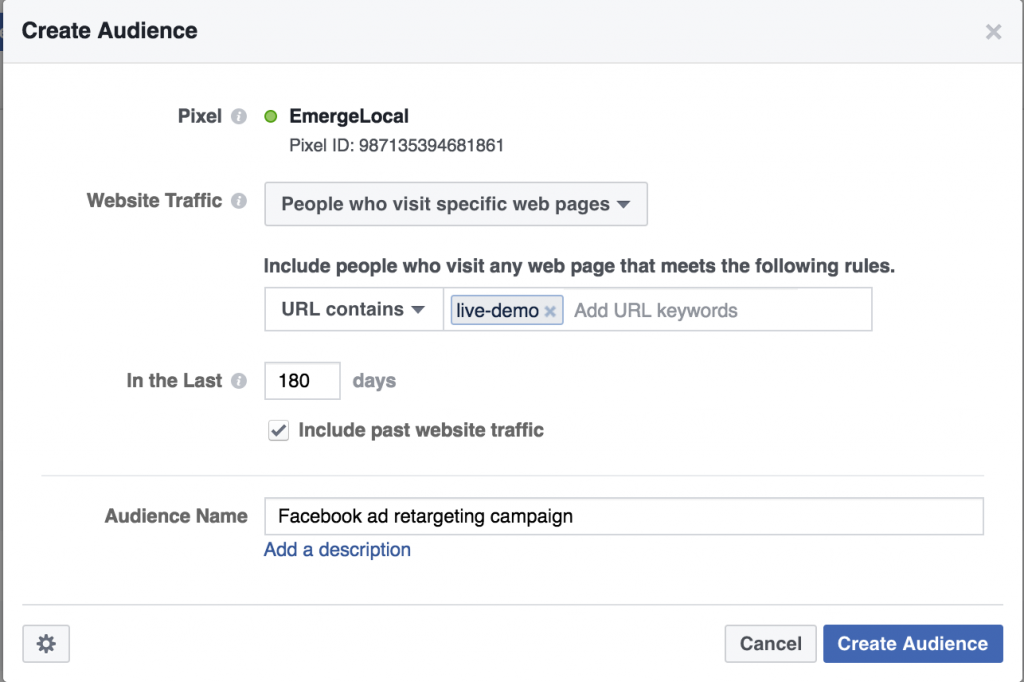 Protip: To build a website custom audience, you can promote your helpful articles, a specific product or tool aggressively and efficiently. Just make sure your URL is accurately labeled, otherwise you'll lose bounced traffic.
Email list
One of the marketing quotes I always hear is "There's money in the list".
It must be a legit marketing advice that every marketer should take seriously.
Do you have an email list? If yes, you took action. If not, here's why you need to start building yours now – export your list to a csv file and delete everything apart from the email field – save as csv and upload to your Facebook Ads dashboard as a Custom Audience based on a Customer File. (see below)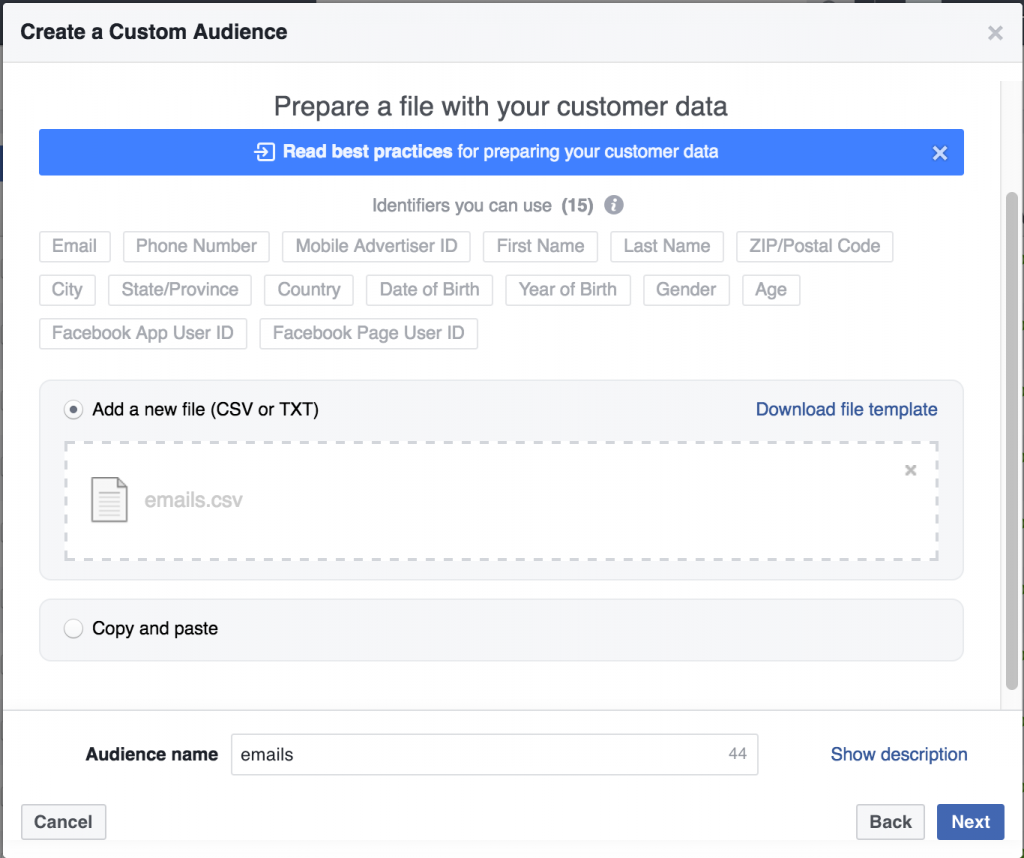 Protip: Build your email list from day one you launch your website. You can use MailChimp, a web based email marketing software as a start.
Fans
This Facebook custom audience feature is pretty new. Just go to your Facebook Ads dashboard as Engagement on Facebook based on Page. You have several options here – to start with I'd recommend creating audiences for all page engagement, page post and ad engagement, all page visitors, and messages to page. Take a look at the screenshot below.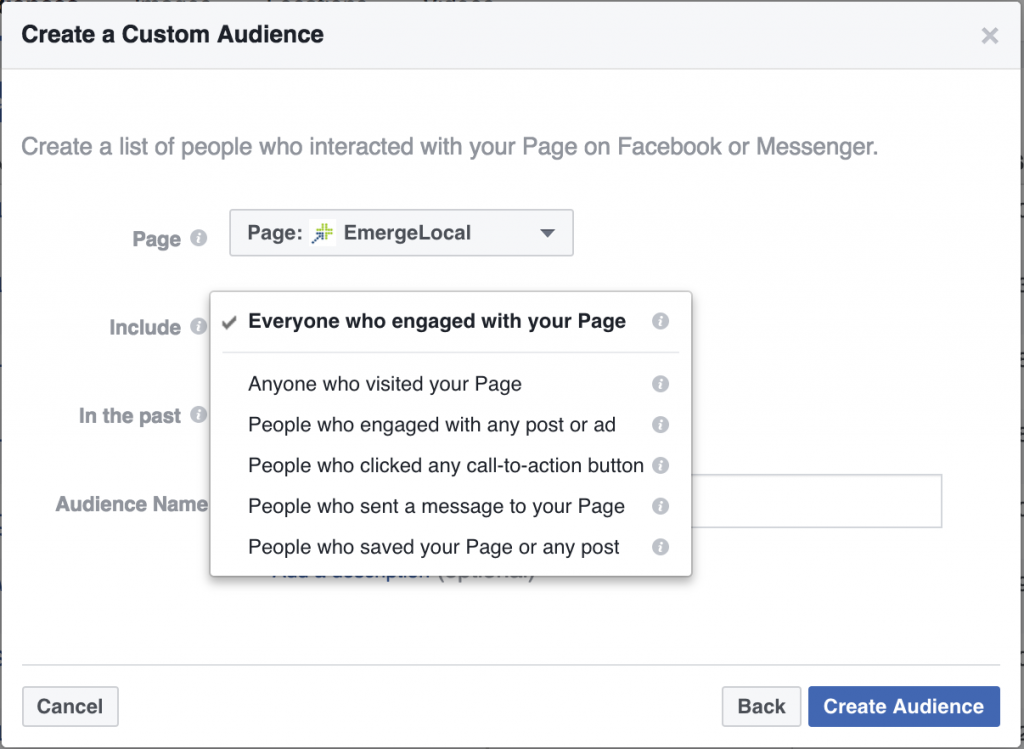 Protip: Think of creative ways to attract people to engage on your Page (liking, sharing, and commenting on your status post or sending a private message).
Lookalike
According to Facebook,
"Lookalike Audience is a way to reach new people who are likely to be interested in your business because they're similar to people who already are."
It's a fantastic way to drive Facebook Likes and new leads. Come to think of it. Who's more likely to follow your business' Page than people similar to your existing fans or clients?
This is great for anyone with smaller audiences. Instead of relying entirely on an audience of 1,000 people, for example, Facebook may turn that into 300,000 or even 1 million people.
The screenshot below shows you how to create a Lookalike audience.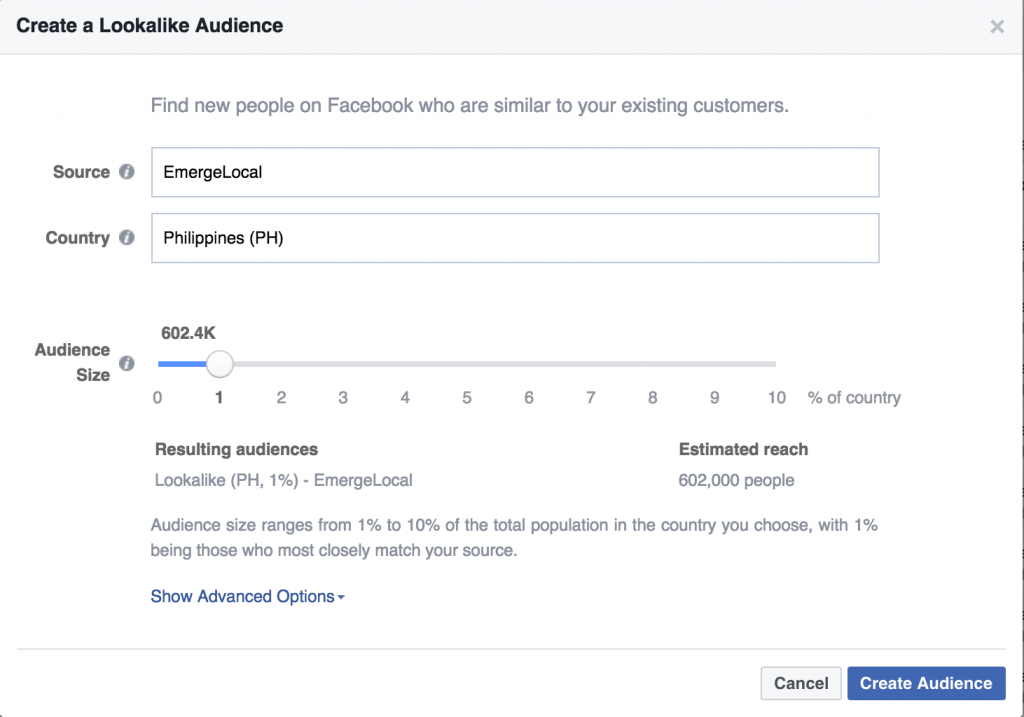 Protip: Start first with 1% because it's optimized for similarity. Once you tested the 1%, you can gradually test higher percentages.
Conclusion
Setting up your Facebook pixel and custom audiences are the first few things you need to do before you create an ad. These warm audiences are likely to cost less and convert more – website visitors, email list, and page fans. While if you don't have a built in custom audience, lookalike audience is a great option.
Rather than give you a step-by-step walkthrough of all of these audiences (which would take a couple hours and leave you exhausted) I've simply examined how they might work and why they're powerful.
If you have any questions about actually implementing Facebook custom audiences into your marketing strategy don't hesitate to reach out to us via email.
Now you can do the same – go and get started!