Storytelling In Facebook: How To Use It To Grow Your Business
How can your content break through the noise?
How do you influence the people around you with your brand?
Storytelling is an experience. People don't outgrow stories, we love stories, because they're part of the human condition.
In the age of the Facebook "News Feed" overload, marketers and businesses can implement different strategies to make their content stand out and capture the attention of Facebook users.
Think about this.
Your potential customers might be in the midst of doing errands and will take out a few minutes to scroll through their News Feed. Their attention span is so small that they will likely skip anything uninteresting.
So in that case, coming up with content that's not just creative but also worth engaging from beginning to end.
If your company finds itself in similar waters, below are three ways to grow your business through content marketing storytelling.
Cover Photo
According to the Content Marketing Institute, "content marketing is about developing the story of us." However, the story is not just about your brand, mission and purpose.
Cover photo is part of the Facebook timeline. Facebook timeline is a canvas to paint your brand story.
Nokia features a unique, attractive image as the cover photo. Two women hugging each other denotes a very powerful emotion.


Here's another one from Disney, it's a 20 second video clip of the new movie, Pirates of the Caribbean. Putting a sneak peek of what you can offer is a great way to tell a story.

Facebook 360
Facebook 360 launched in 2015, first with video capability, and then photo functionality in 2016.
Brands are using 360-degree videos for everything from marketing to education and simply connecting with their audience in new ways.
ABC News has shown versatility in the types of stories they have been able to utilize 360 technology for. Below is the video taken in Nepal last 2015.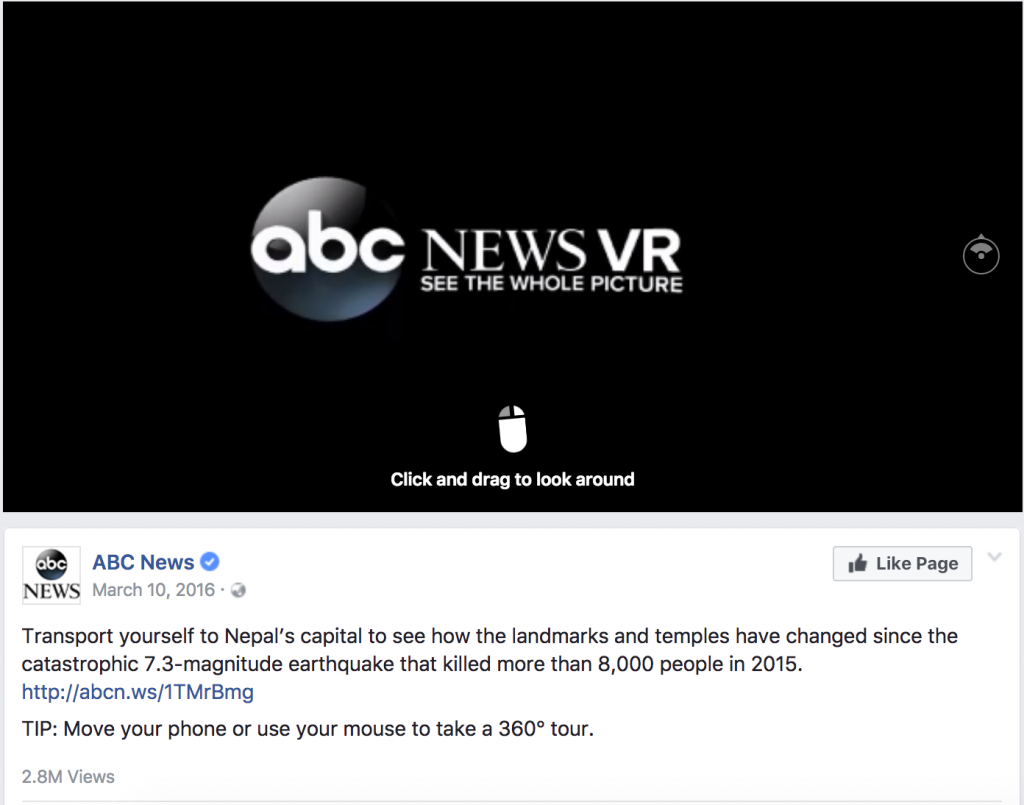 To upload a Facebook 360 video, you may follow the steps here.
Facebook Live
By now you've surely seen plenty of Facebook Live videos from friends, family, and brands you follow.
Does live video even work? That's the question I frequently hear from individual creators to major media companies.
Facebook Live has become a tool for citizen journalists documenting violence, protests, and other events that have long gone unseen by most of the public. It's increasingly a source of breaking news that reverberates across social platforms – a new role for Facebook.
The best thing about Facebook live is there's a community interaction. Imagine the television, you're talking to many people at once, unaware of what the audience is thinking. However in live video the audience can talk to you and you can talk right back to them.
In this modern day, vloggers are the group of people who frequently use Facebook live. When it comes to communicating ideas via speaking to a camera, vloggers are revolutionizing how we view video. I recommend Casey Neistat, Erik Conover, and Fun For Louis.
Conclusion
Your story can be shared in many ways: a compelling cover photo, a heart-warming Facebook 360, or even an interactive Facebook live. Your business will be naturally engaging and you will connect with your target audience. The trick is knowing how and when to tell your story.