How Brands are Celebrating Christmas Season in Digital Platforms
The holiday season is here and brands are ramping up their digital media advertising to attract customers. While it's difficult to get a promotion done with the small budgets companies have, there are still ways you can show more creativity in your social advertisement campaign.
It's that time of year again for early holiday promotions from major brands. For many marketers, this is a great time to take advantage of the social media audience as the community is overwhelmed from gift shopping, visiting family and friends, and enjoying holiday festivities!
From the brands you love, here are 5 examples of digital ads and promotions for early holiday promotions so far.
1. Uniqlo – Celebrate Together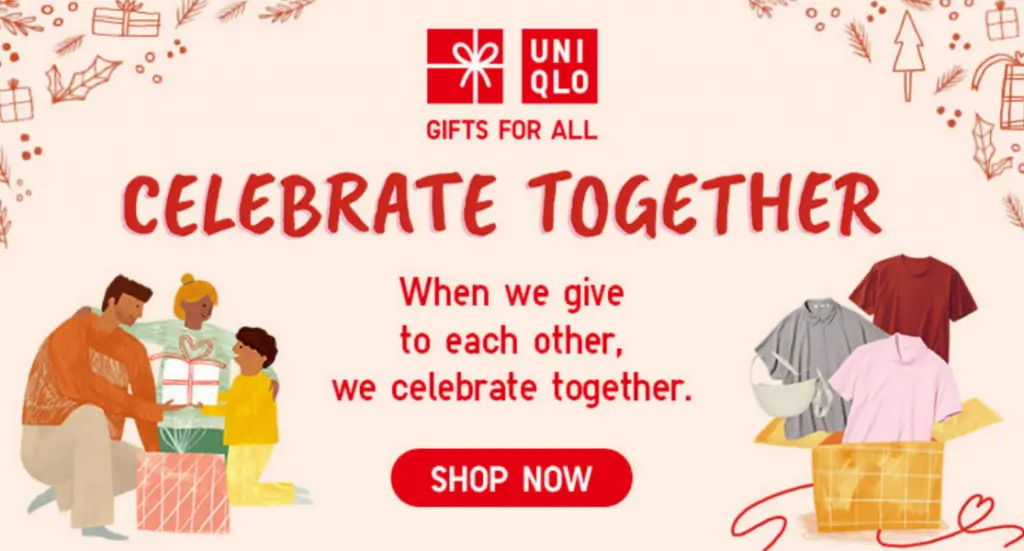 Christmas is the season of gift-giving and celebration. Uniqlo's Holiday campaign immediately captured the spirit of the festivity with its nice tagline "Celebrate Together. When we give to each other, we celebrate together."
The creative design for the ad is also simple yet charming. The color choice to use Uniqlo's signature red for the texts on the pastel background matches well with the brand while successfully giving the feel of the holiday celebration. The simplicity of this ad has made it more memorable and appealing for those who are thinking of valuable gift ideas online.
2. KFC – Christmas Bucket Meal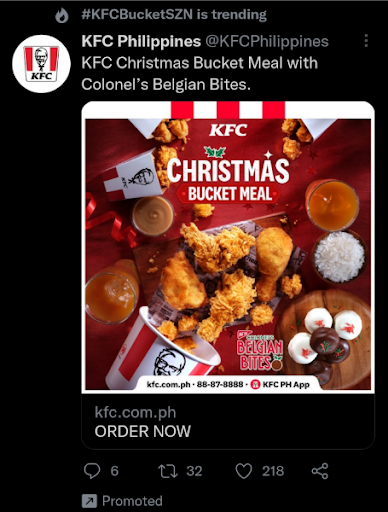 Which brand from the food industry would not take advantage of awaited Christmas deals? KFC recently launched its holiday campaign on Twitter with its promoted hashtag #KFCBucketSZN or read as KFC Bucket Season. You got that?
The ad also featured its seasonal item on the menu "Colonel's Belgian Bites" for dessert to pair with its signature bucket meal. Overall, the campaign and its creative direction is able to give the familiar and fun Christmas party feels.
3. IKEA – Holiday Home Hacks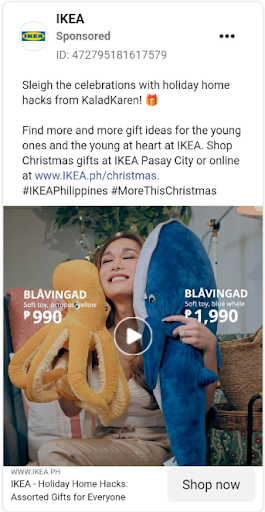 If there's anything the internet appreciates, it has to be the hacks and tips. Home decor enthusiasts will definitely like this advertisement of IKEA featuring Kalad Karen as its campaign ambassador.
In the video advertisement launched on Facebook, IKEA and Kalad Karen showcased some helpful gift-giving ideas by promoting IKEA's own Home Decor Items. Ranging from bathroom decors to kid's toys, to artsy kits, this shows that IKEA has everything you can give for everyone.
The video is part of IKEA's "Holiday Home Hacks" campaign, which aims to inspire people to shop online for their home decor items as perfect gifts this holiday season.
4. META – Love Lokal Gift Guide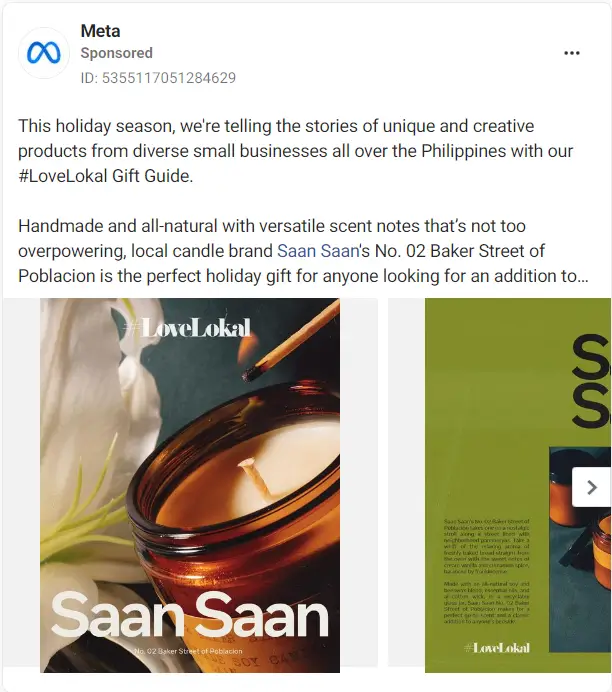 Meta is helping small businesses around the Philippines by introducing their brand and products with their Holiday campaign Love Lokal Gift guide.
In this ad posted by Meta, they featured a local candle brand called Saan Saan and gave its audience an insight into how and where the brand takes its inspiration for its products. This advertisement is an effective mix of affiliate marketing and advertising.
This is a good way of introducing a brand that uses Meta services while also giving the local business a boost. It also helps that there are more gift ideas for us since scented candles are trendy gift items for Christmas!
5. SNAFU Records – Christmas Playlist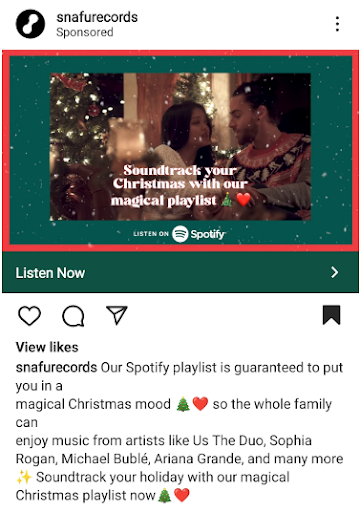 You will truly start feeling the Christmas spirit once you hear the bells. Music companies, agencies, and artists are starting to make the most out of streaming platforms and this is true with this season.
Search the music library on Spotify and there will be a Holiday playlist curated for you. SNAFU, a team of musicians and songwriters that penned billboard charting songs, uses Instagram video ads to showcase their playlist on Spotify.
Using short-form video ads on Instagram feeds, reels and stories is an effective way to debut a song on social media platforms nowadays and this ad effectively captures that. Its call to action 'Listen Now' will direct you straight to Spotify to hear and enjoy beloved Christmas song renditions.
What's key to remember is that online and social media advertising will always remain a significant portion of future marketing campaigns. The best approach is to offer something that resonates with customers' inner desires – like an inspiring video promotion or an effective mix of elements in ad creative. After all, people are looking for more than just a gift this holiday season, but something to remind them of what matters most.
If you need more help in understanding social media advertising or where to start on the digital-first approach on running ads online for your business, click here!