Part 2: Learn How to Optimize Your Google My Business Account
Did you learn a lot from the first part of our article about Google My Business?
Wait, there's more.
Here is what's next after setting up your GMB Account.
It's time to start optimizing your profile!
So, here's what you need to know.
What's Inside Google My Business Account?
1. Google My Business Home Page
If you logged in to your account, the first thing you'll notice on the home page are the action buttons which tell you to create post, add photo, or create ad.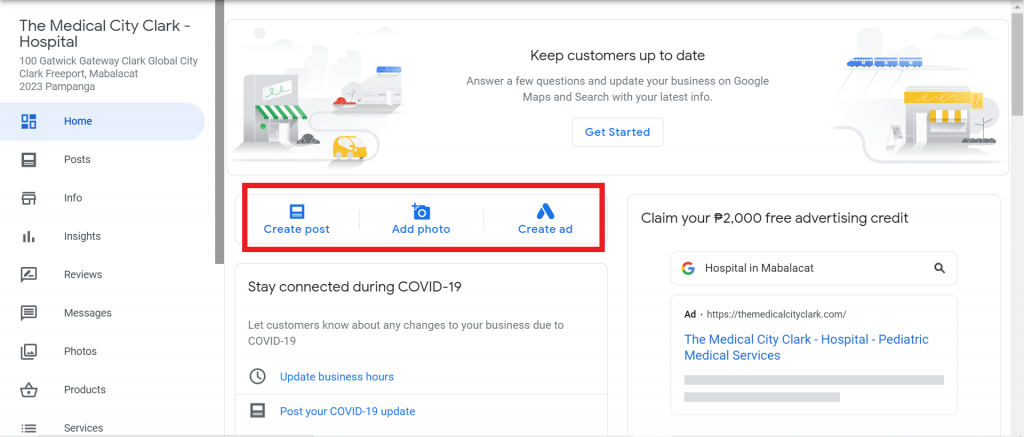 Insights to your listing's latest performance, customer reviews, and latest posts are included on the home page, as well. This will immediately let you see the status of your account. Use this to your advantage by coming up with a strategic plan based on the results.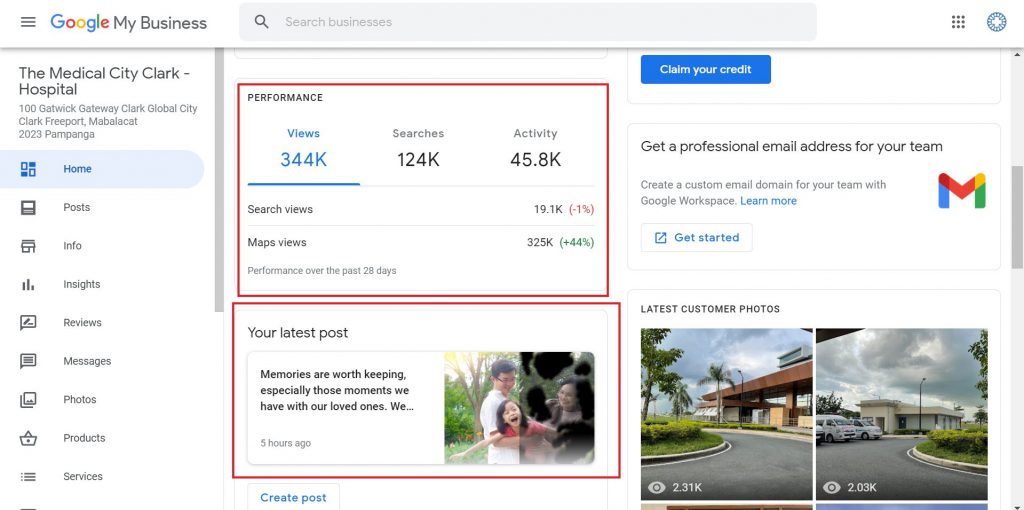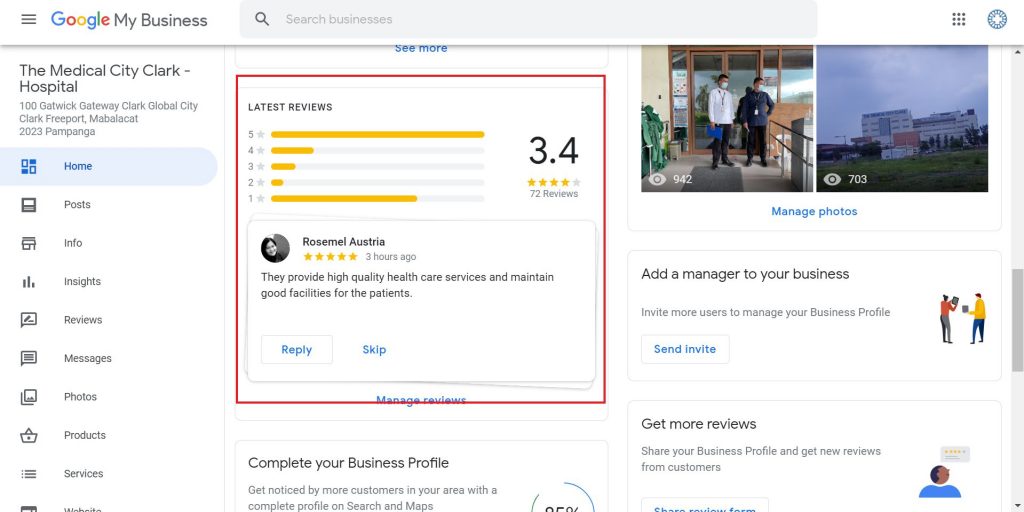 Make sure your profile is completed with all relevant information. Follow Google's prompt to finish setting up your account.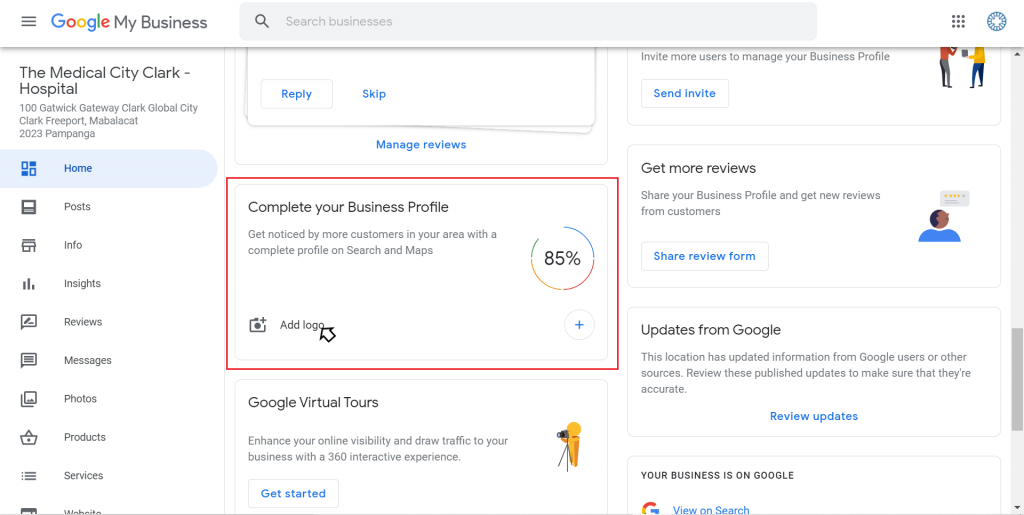 2. Business Information
After checking your homepage, you have to look into the information you inputted to ensure its preciseness. Click the info tab Make sure all information is right and updated, so potential customers will search your business easily.
Under info tab, you can do the following:
Input business name
Put business category
Add location and locate it in google map
Include service area
Insert business hours and special hours if there are
Add contact number, website link, appointment links
Put services
Insert photos
3. Photos
After adding all important and relevant information, upload eye-catching photos to visually attract potential customers. Click the photos tab, then add a cover photo and a logo. This will help your customers identify your business. You will also see, on this tab, images uploaded by customers. Leave a lasting visual impression to engage with your potential customers by adding more images on your account.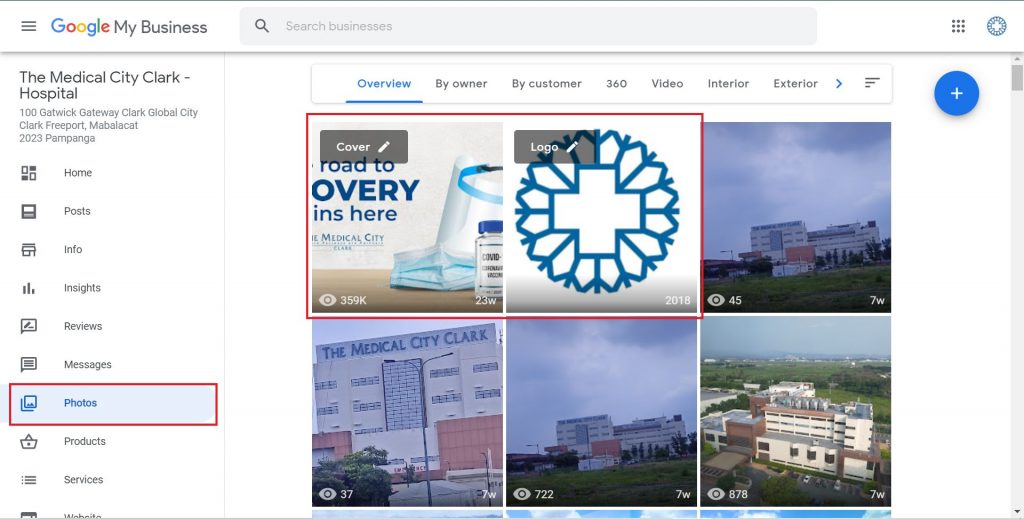 4. Postings
Next, engage and reach your customers. Go to the posts tab to create a post about an offer, an event, an update, or about a product. On this tab, you can also see the number of views your post/s received. You can also see insights for a week's or a month's posts.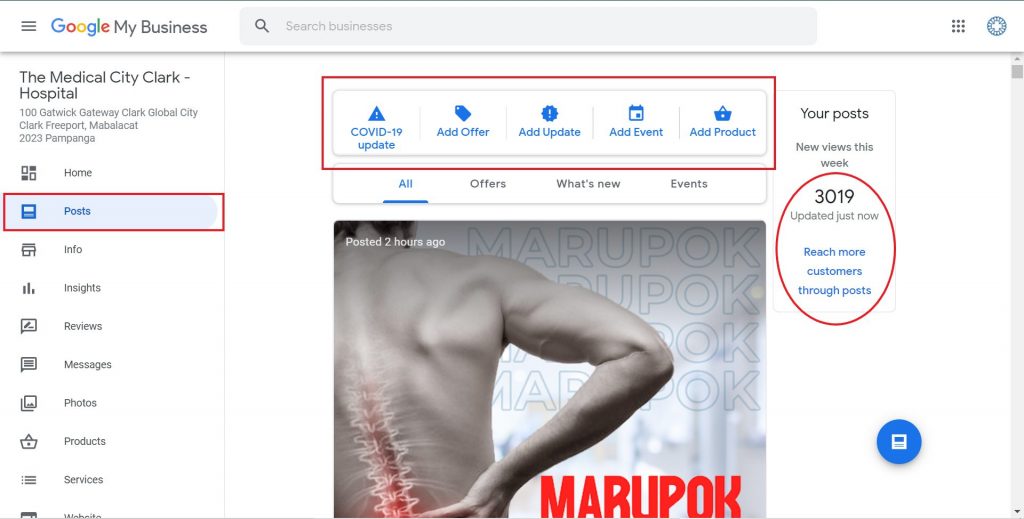 5. Insights
Check your insights every time to see your position in the search results. Find out how people search you on google. Click insight tabs to analyze your data on where customers check your account, how many looked for your location, and so on.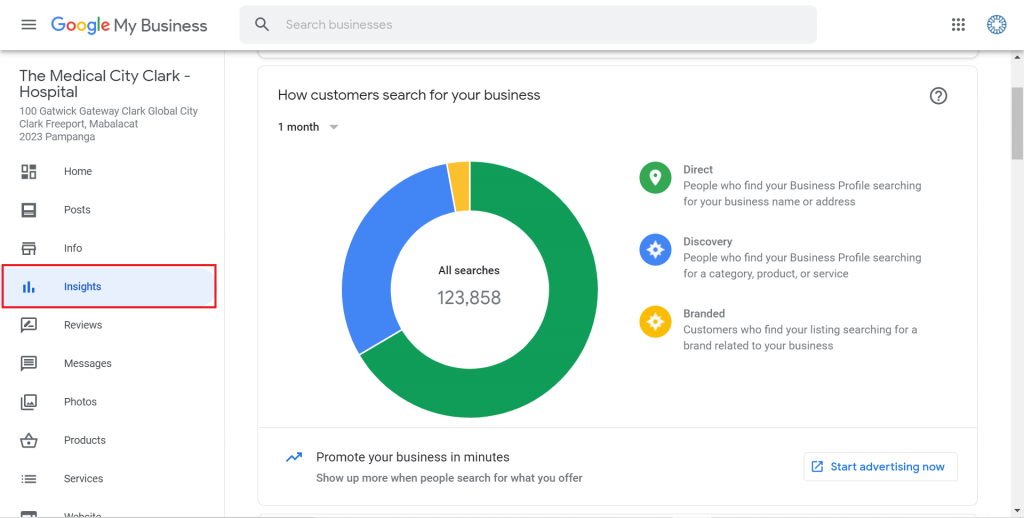 6. Customer Reviews
Don't forget to reply to reviews! Satisfy your customers to keep your 5 stars. Fix and provide solutions to dissatisfied consumers. Appreciate those who rated you! Reply to every customer's review to keep on engaging with them.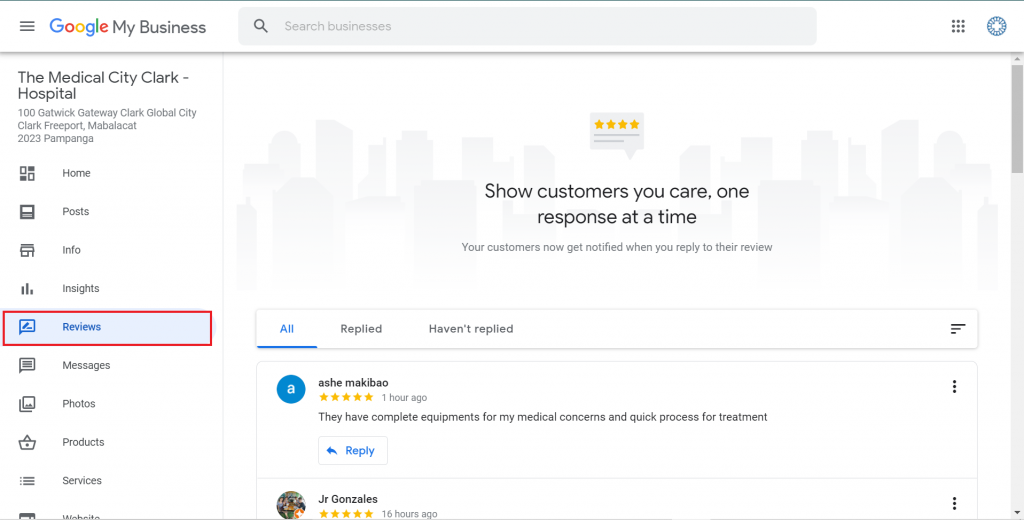 7. Customer Messages
Turn on your messaging option to connect with your target audiences! Don't miss the chance to be in touch with potential customers.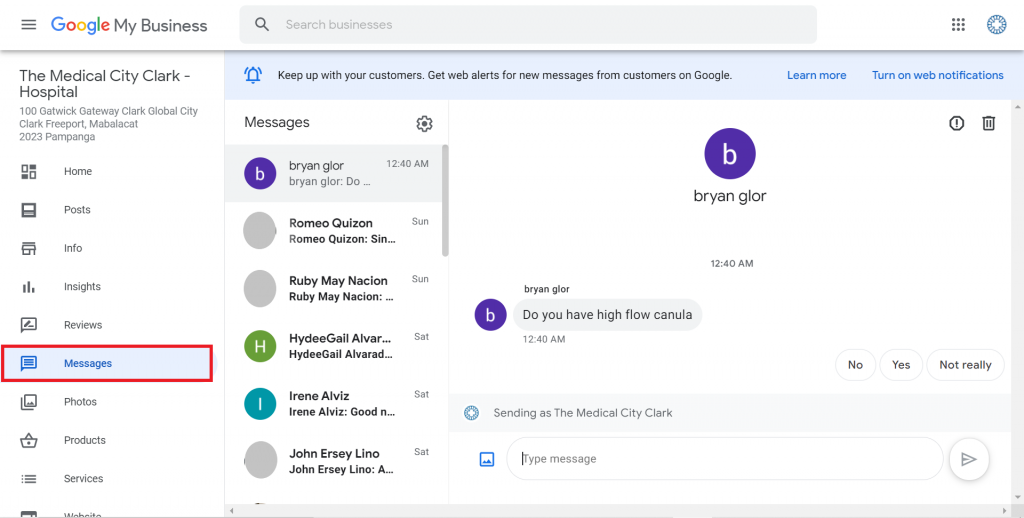 8. Product / Services
Make people know what you offer! Show a list of your products and/or services on the products tab. Add a photo for visual attraction. Write the name of your product and its category. Include a short yet compelling description to easily grab potential customers' attention. Add a button for a call to action.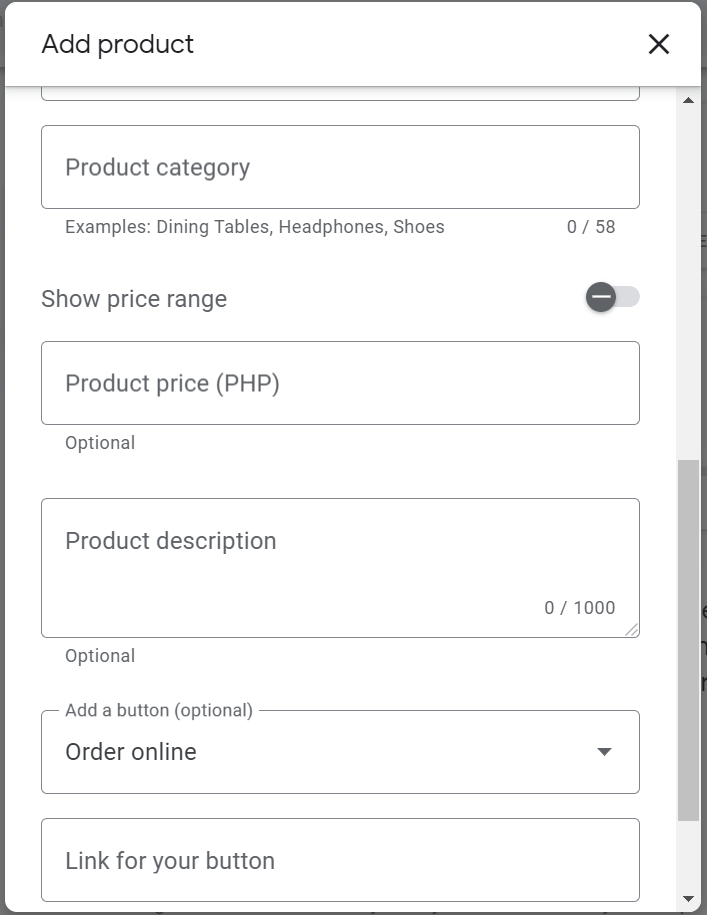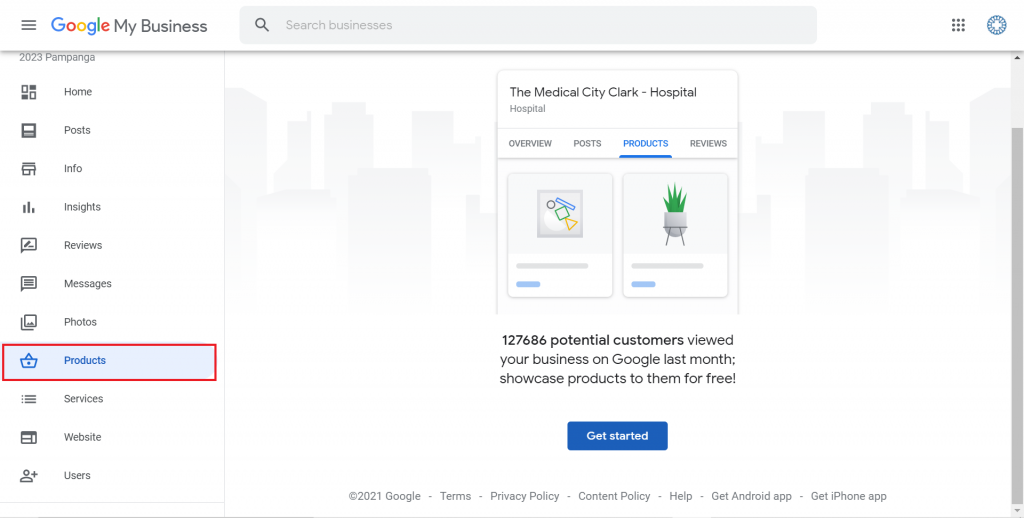 9. Official Website
It's also important to have your own website for people to visit. If you haven't made one yet, you can make one on your GMB account! Go to the website tab and start creating your website. Though this one is not free, you may opt to create a website for free using other builders.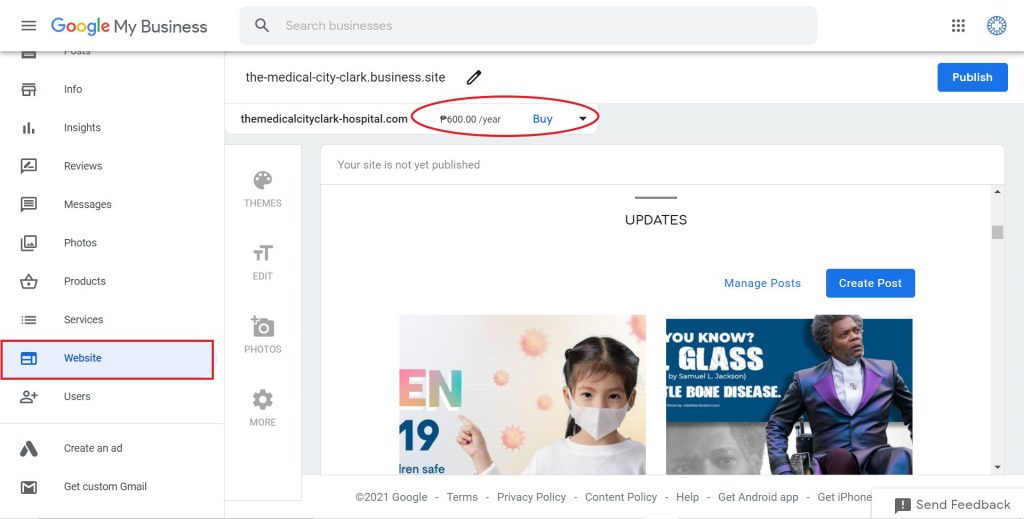 If you think one cannot handle this page, then add another administrator on the users tab. In that case, when one is busy doing other things, the other one will be able to manage your account.
Wrapping Up
All in all, in order to optimize your GMB account, you have to check every nook and cranny of your account. Make your account more searchable by filling out important, relevant, and up-to-date information to make sure your target audiences will not miss anything.
Should you need help in setting up your GMB account, feel free to get in touch with us.
Learn more about digital marketing strategies and concepts here on Emerge. Search through our list, and you might find what you're looking for. Schedule a call with one of our GMB specialists.