Part 1: Google My Business Guide for Business Owners in the Philippines: Set up and Confirm Listing 2021
Is your business showing up in Google search results?
If not, you might lose an opportunity to be searchable on Google.
Well, there's one platform where you can make your business or brand visible on Google.
Google My Business
Google My Business (GMB) is a platform that helps business owners create and promote a professional business profile in Google Search and Maps.
How will GMB help your business?
Google gives GMB listings priority on relevant search results, which also shows on Google Map.
If you search for a keyword in a local area, GMB accounts related to that keyword and location will result on top of other websites and other results.
In other words, your business information and location will be readily available within just seconds, thanks to the Google My Business account.
Notable, isn't it? Potential customers would not need to check your website to find information about your business.
A GMB account can help you with that.
Wait, there's more!
Google Business profiles can rank higher on the list if it's optimized well using GMB SEO. Partnering GMB SEO with Google Ads will surely stabilize your rank and help you rake in more profit. "Near me" searches will bring more potential customers to you.
Optimizing your website will provide important information, e.g., hours of operation, website link, business description, etc., on knowledge panel results when someone searches for your brand or types in relevant keywords on the search engine.
GMB dashboard produces insights on local search performance and information about your audience and their searching behavior, such as knowing whether customers found you on Google Maps or Google Search.
How to set up Google My Business
Here are the steps to follow in setting up your GMB account:
Step 1: Create an account
Sign in with your Google Account or create a new one on Google My Business.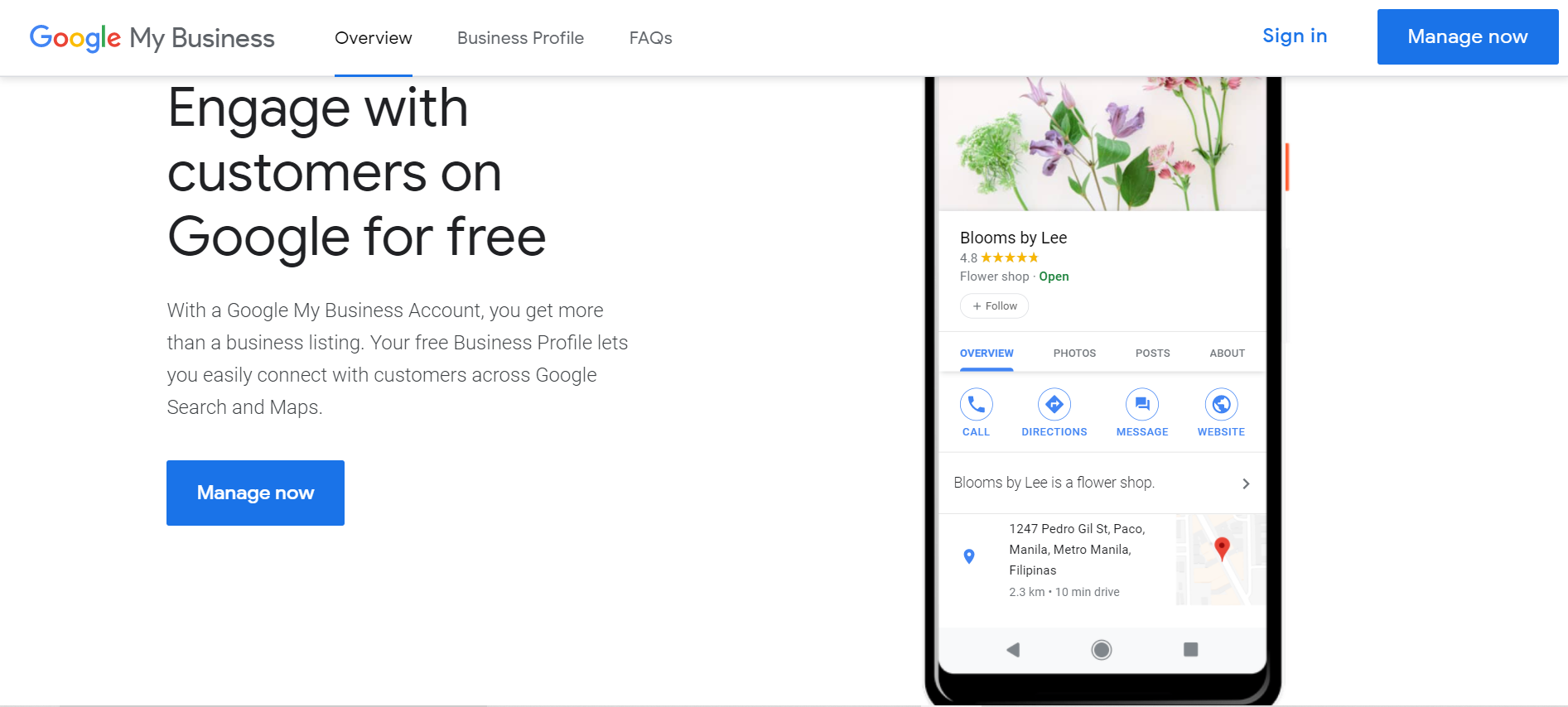 Once you sign in, enter your business name and select your business category. Then, click Next.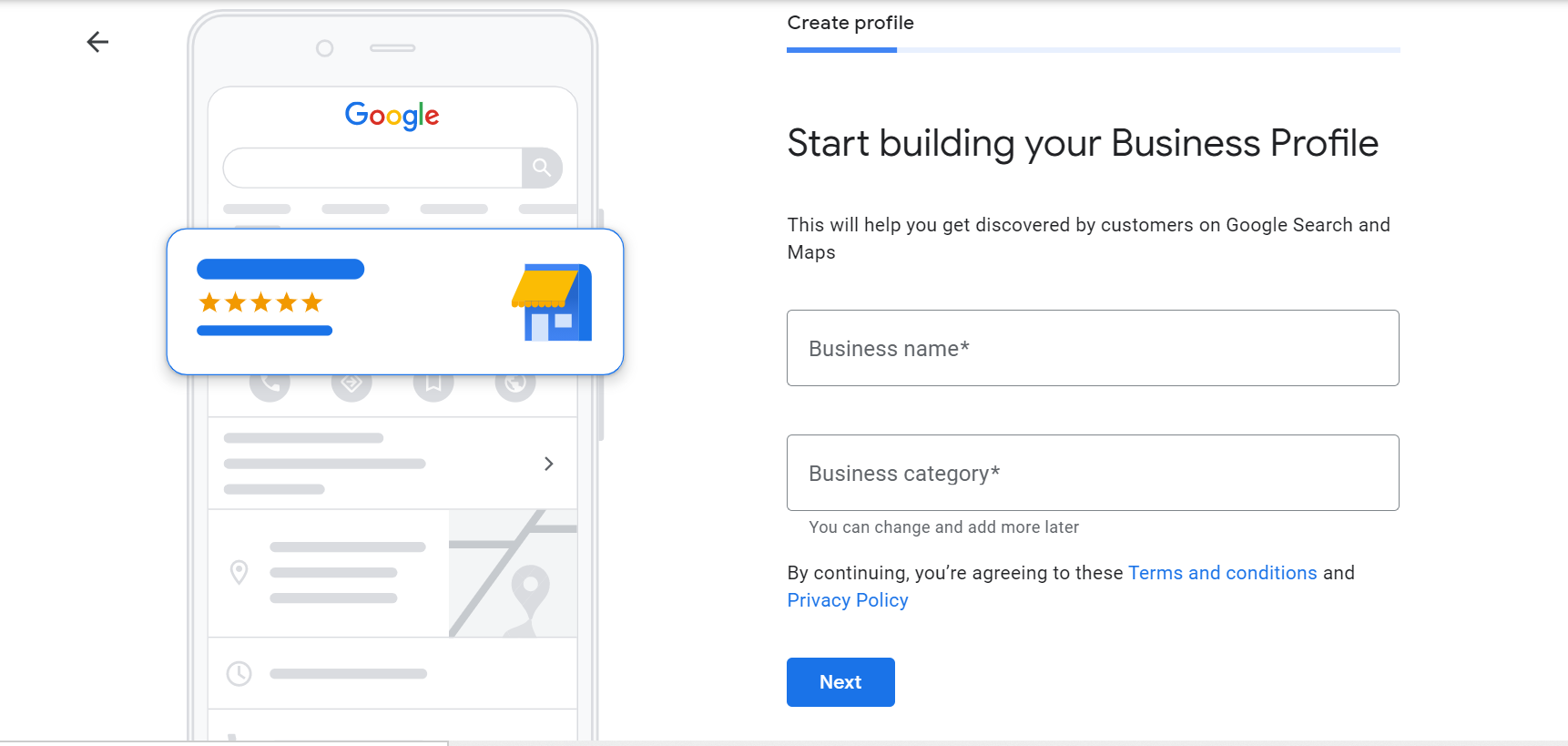 Add your location by selecting YES, then fill in your store address or business address after clicking next.
If you have no physical store or business address, you may choose NO. Then, click Next. You may opt to select customer service areas after. Then it will immediately direct you to fill in your phone number and website URL (if you have one).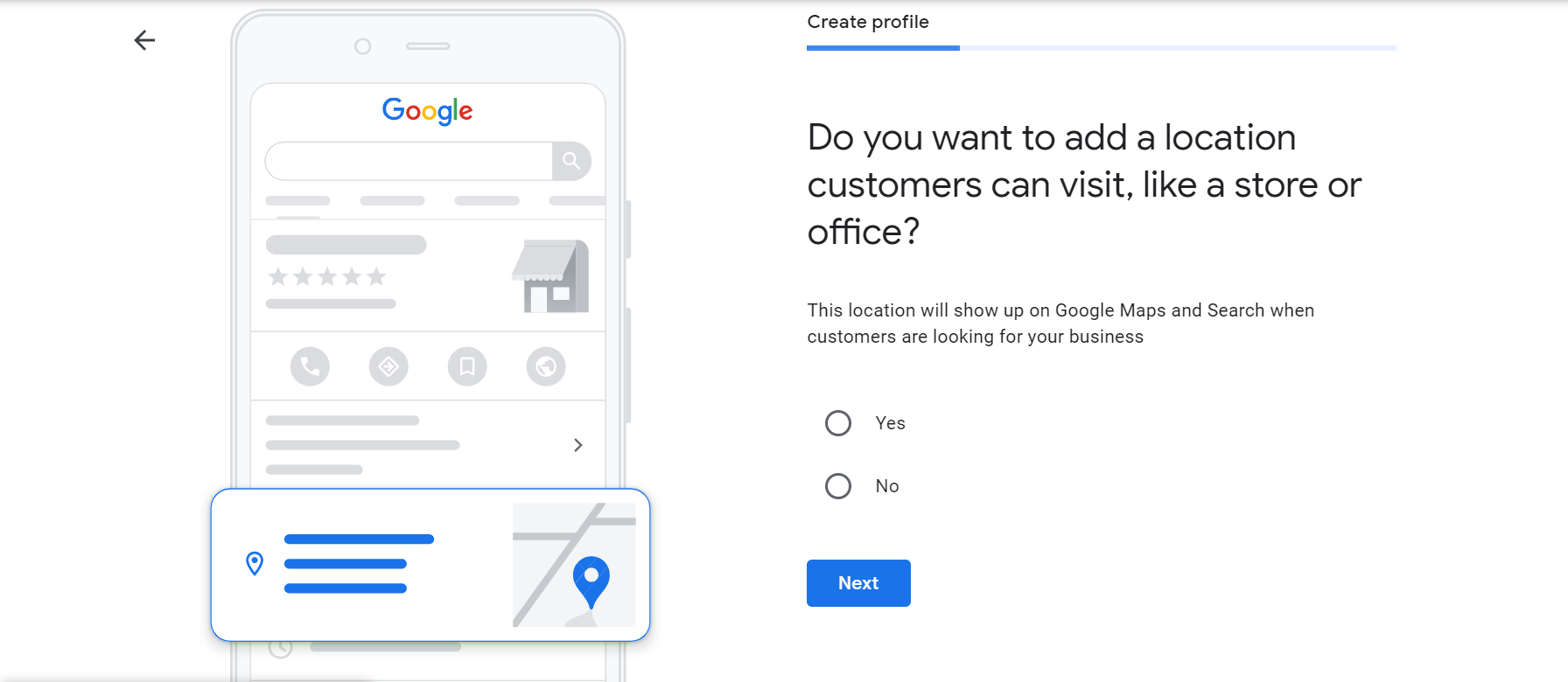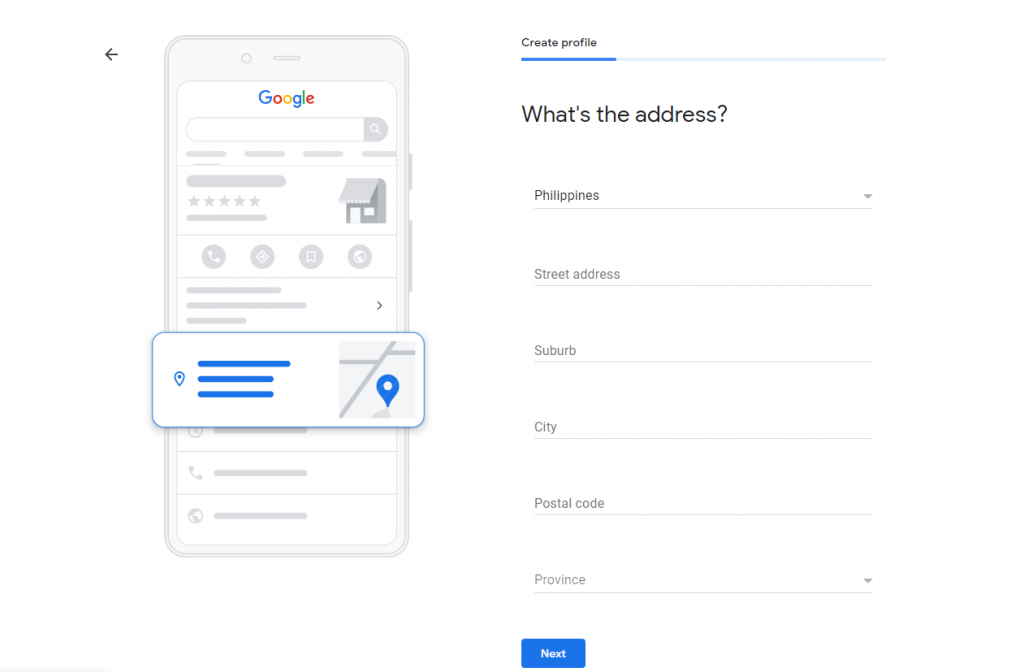 Locate your store or office on the map. Mark your spot on the map, then click next.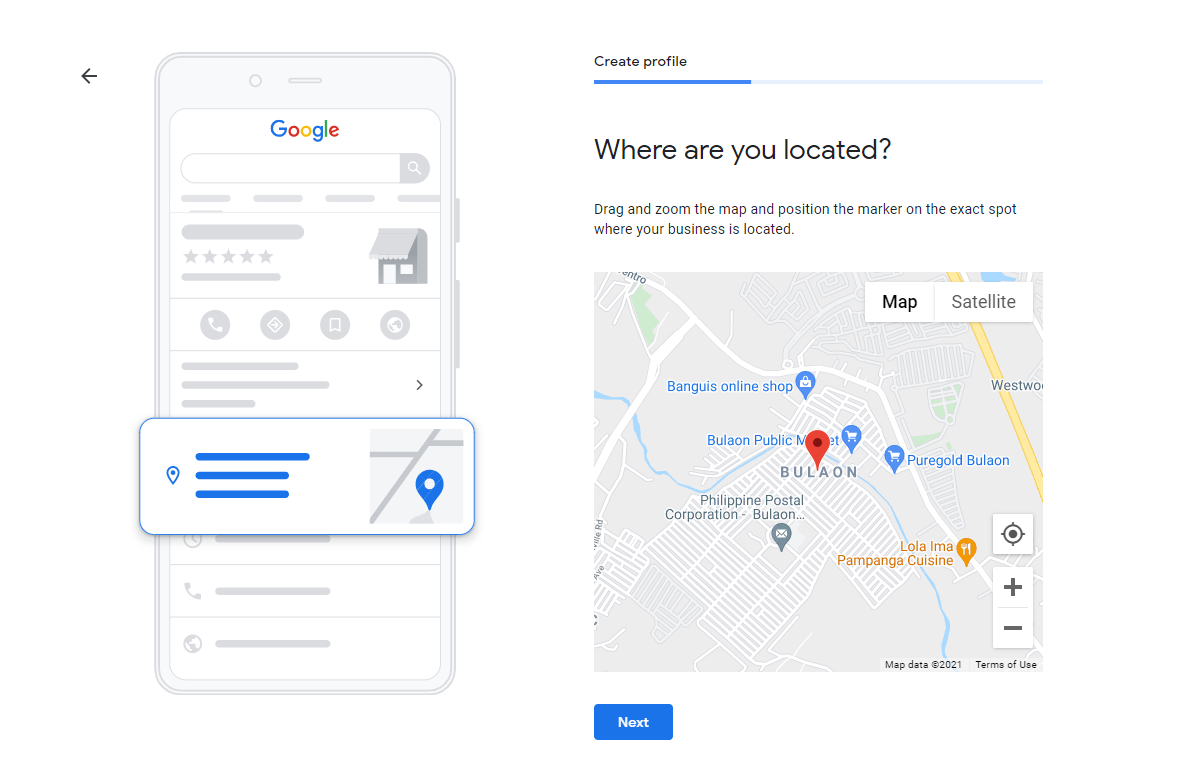 It will ask you If you serve customers outside your location. If you have another store branch or other offices aside from your main, you can click YES. If you only have one store address, then choose NO and it will direct you to add contact information.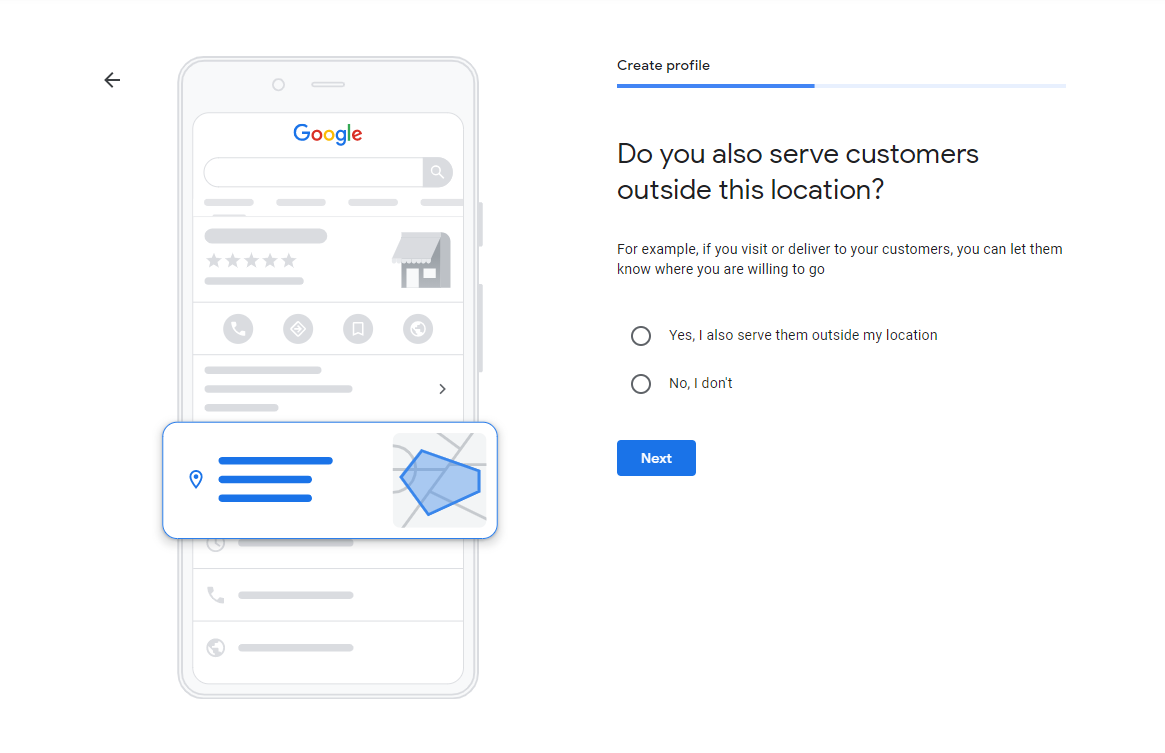 Add additional areas to locate your branch stores or to indicate the area of your services. You can add as many areas as you want! Click Next after selecting all the areas you wish to include.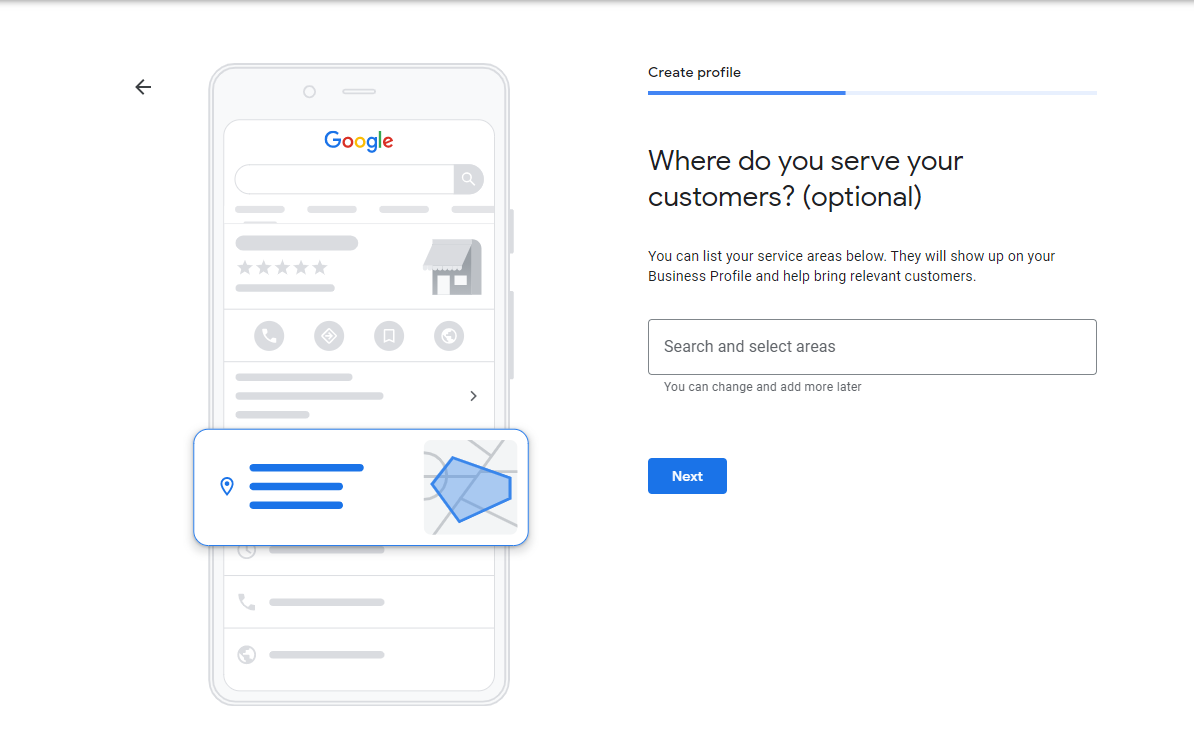 Provide some contact information, such as a phone number and/or a URL for your website. Click Next. There's also a Skip button if you wish to add this information later.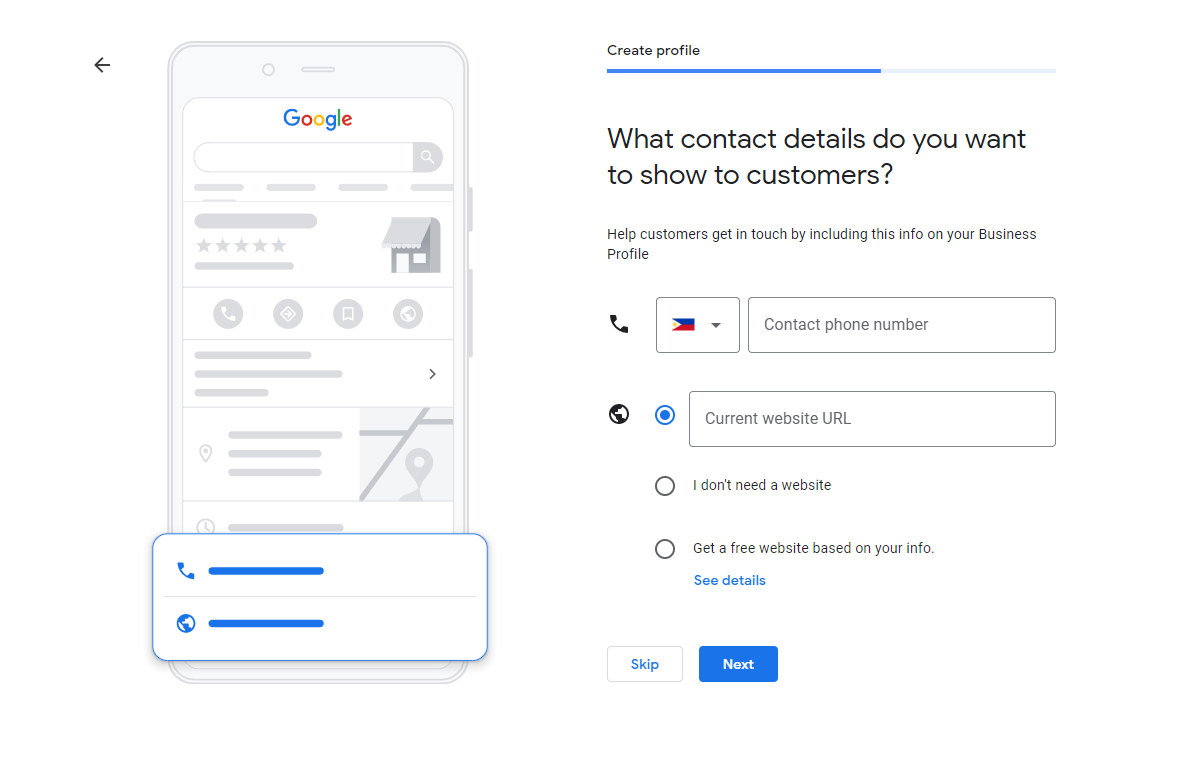 Then you may say yes if you want to be updated and recommended. Otherwise, choose no. Now verify your account (or later).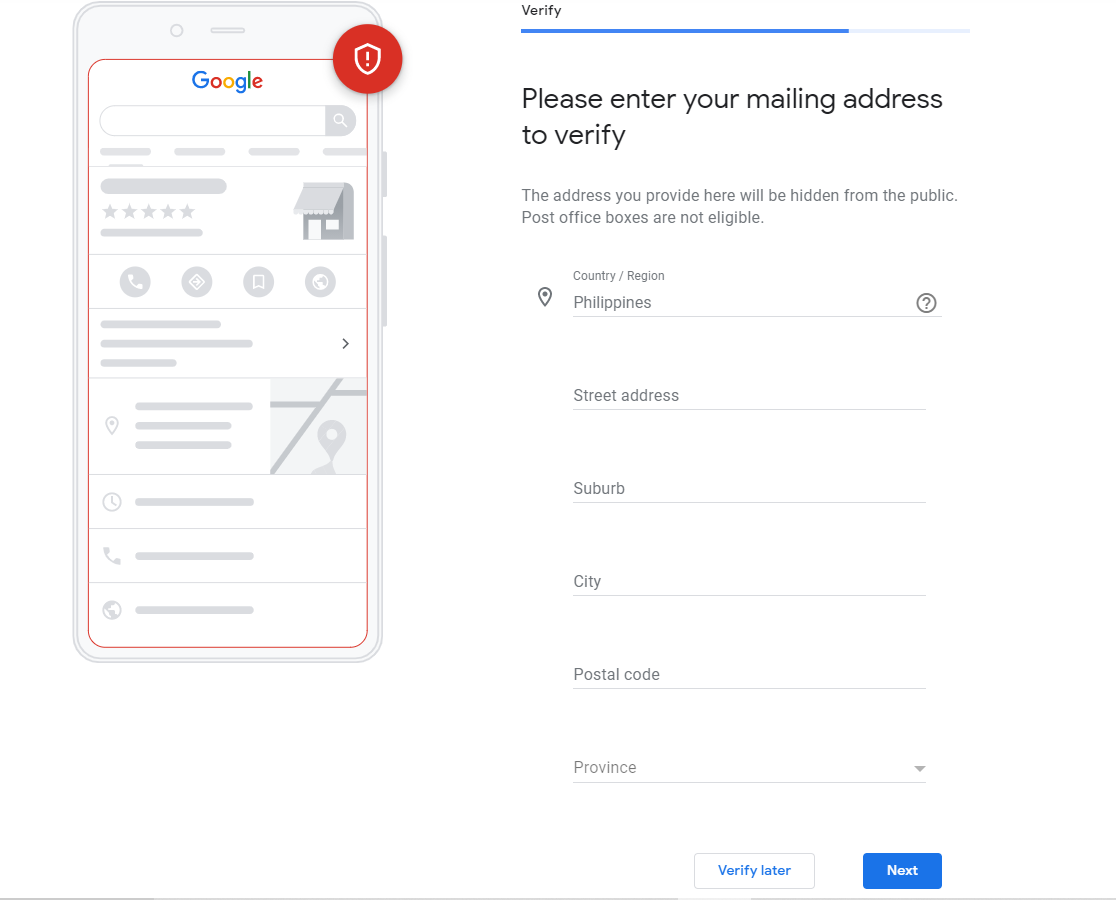 Write down your name and wait for the postcard mail to arrive within 14 days. Once you've received it, enter the 5-digit verification code on your account.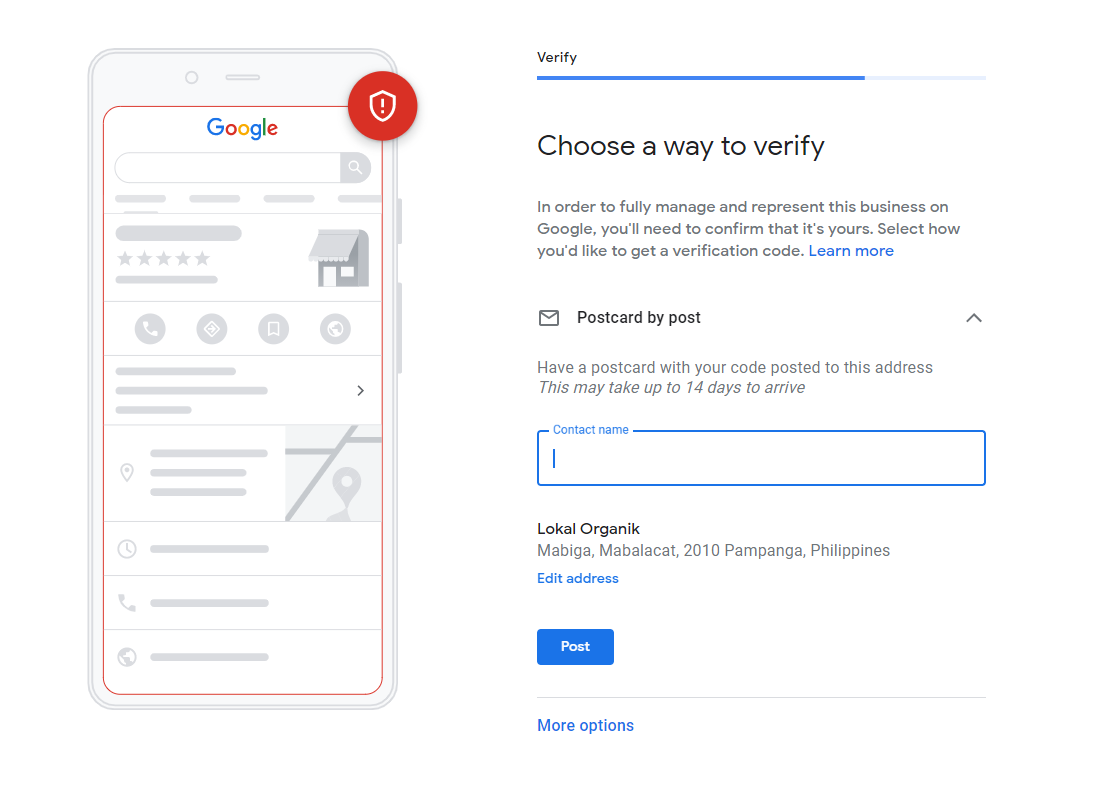 Add your business hours, or skip and do it later.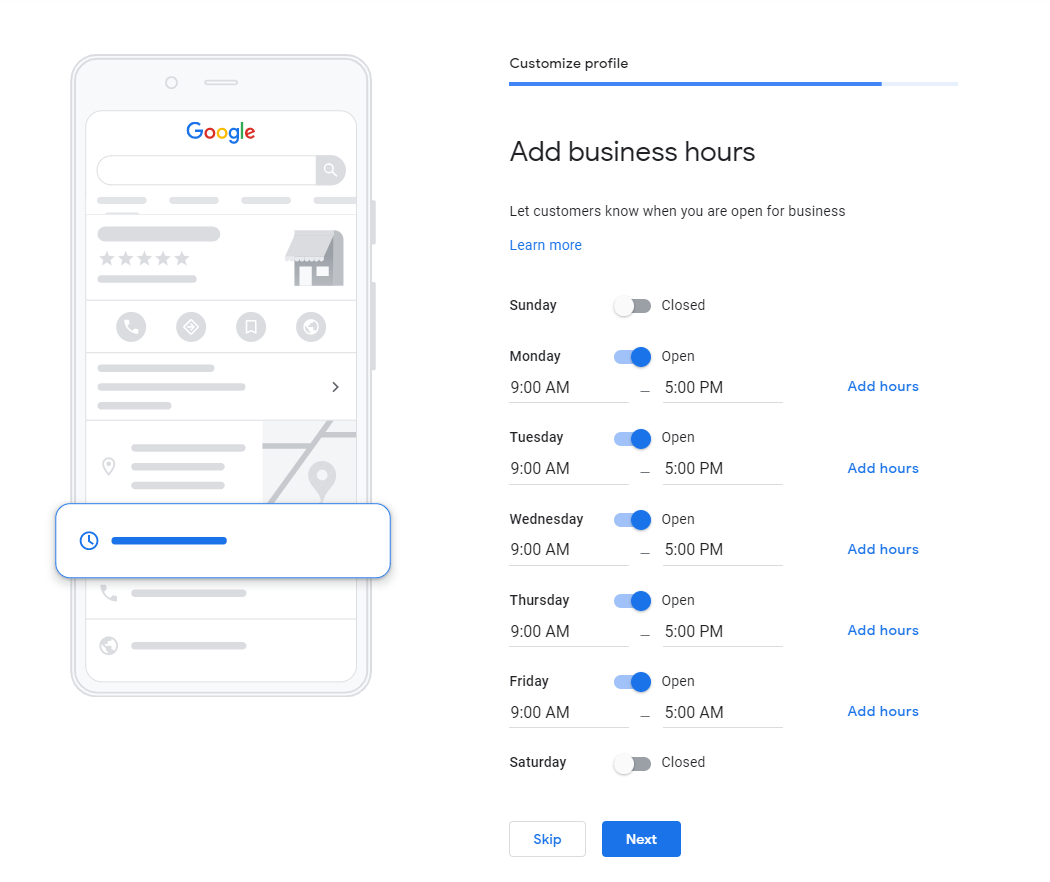 Connect with your potential customers by accepting messages.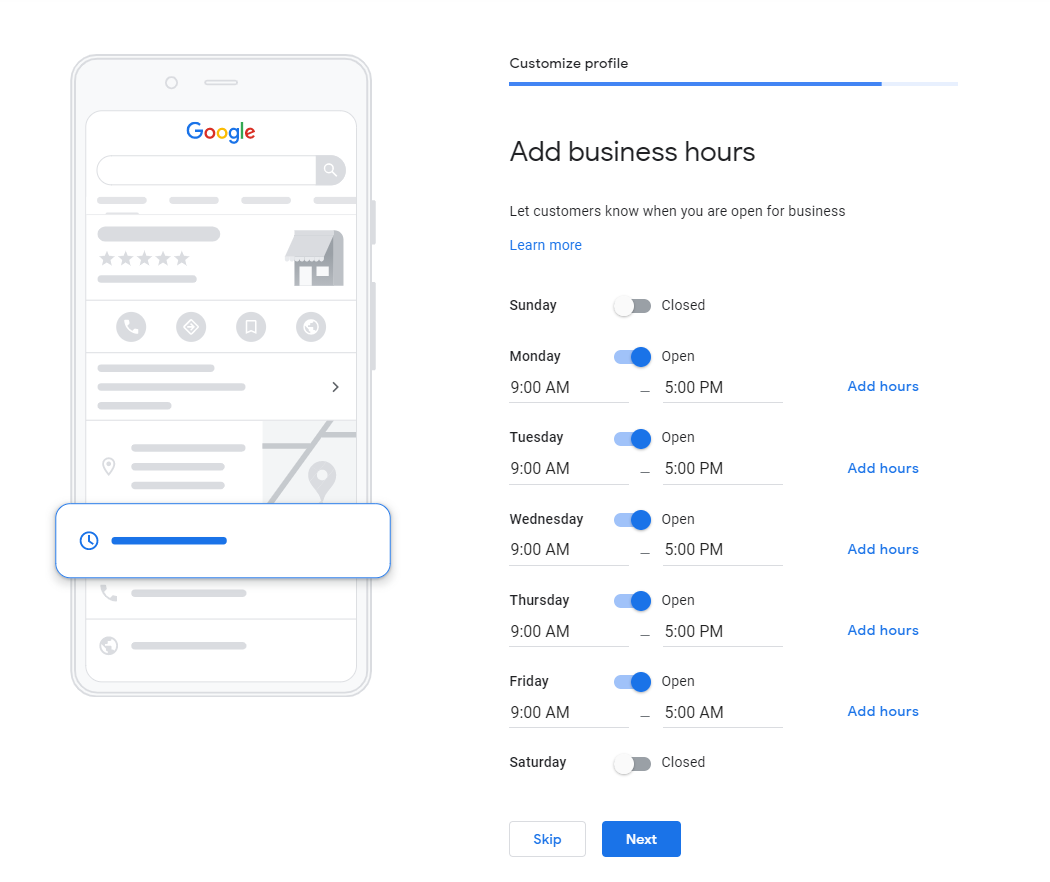 With 750 available characters, describe your business in the most compelling way. Include keywords that are most relevant to your business and are most searchable.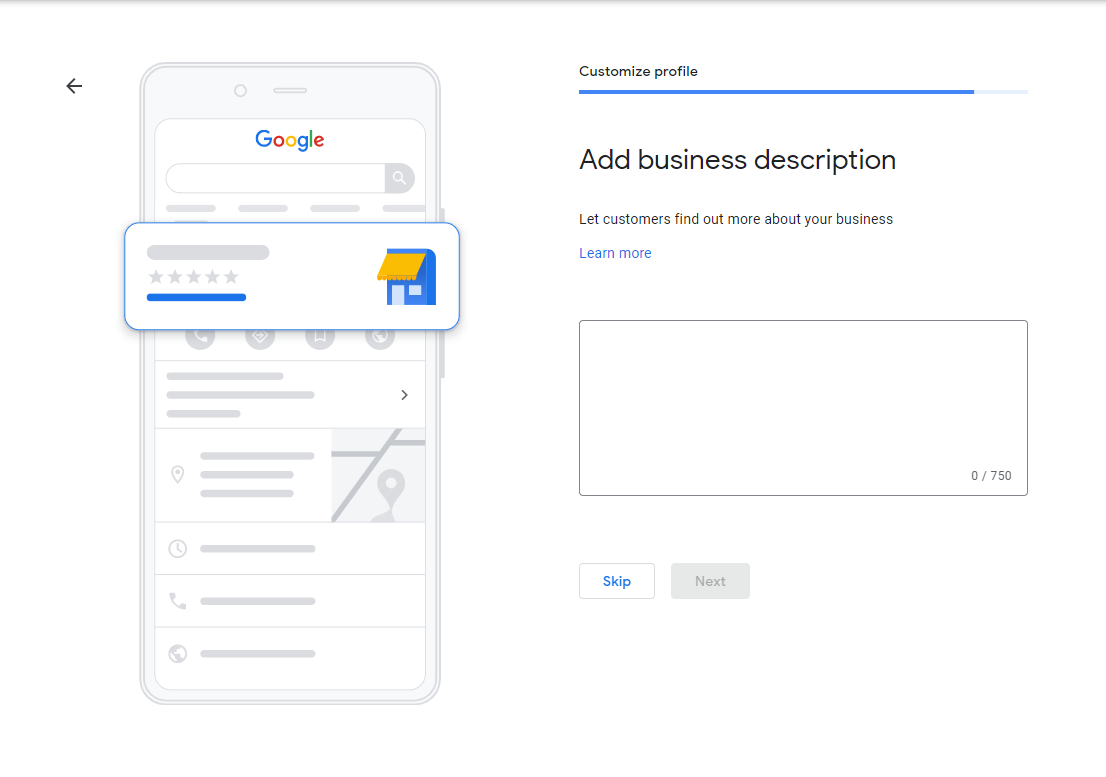 Finally, include a sneak peek of your business by adding photos. Show your best photos to attract more customers!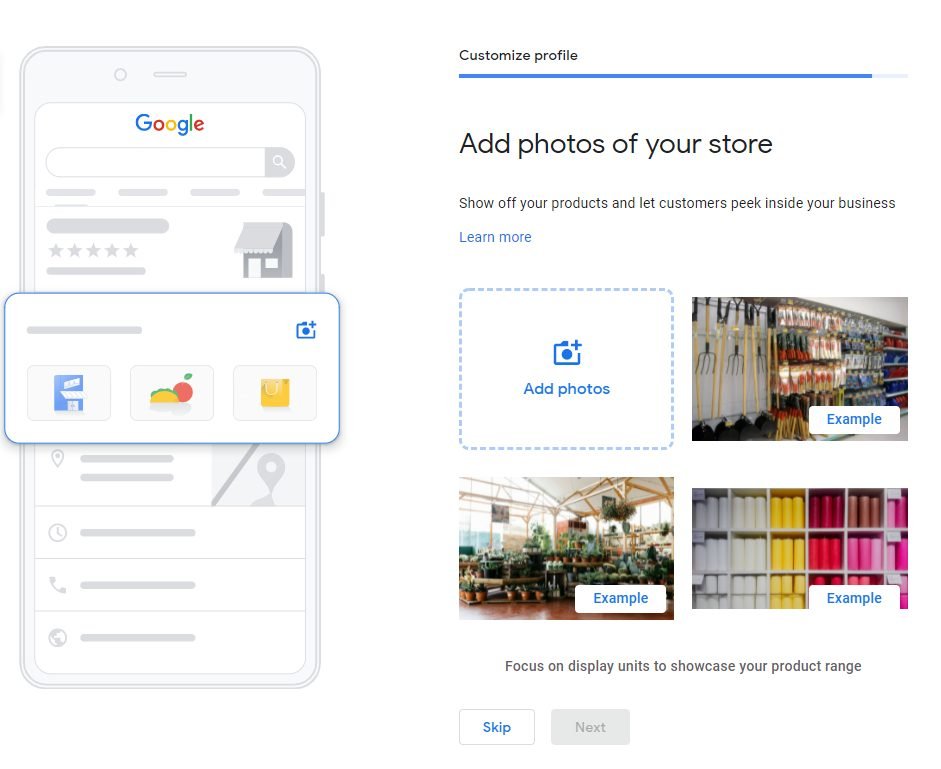 There's a free advertising credit worth Php 2,000 from Google. Accepting the credit will lead you to Google Ads to create a new campaign. Take the credit and you're ready to get your account started!
Step 2: Optimize your Listing
Complete all the information Google asks for. Fill it up with accurate information.
Follow the prompts that Google will present, and your Google My Business account will be loaded with valuable information.
Select all the relevant categories and use relevant keywords in your description.
It is best to use words that potential customers will highly likely use to search and include those words in your listing.
After optimizing your listing, download the GMB app on your mobile device or any smart portable device to manage your account anytime, anywhere.
Step 3: Download the GMB app
Download the GMB app on PlayStore or App Store.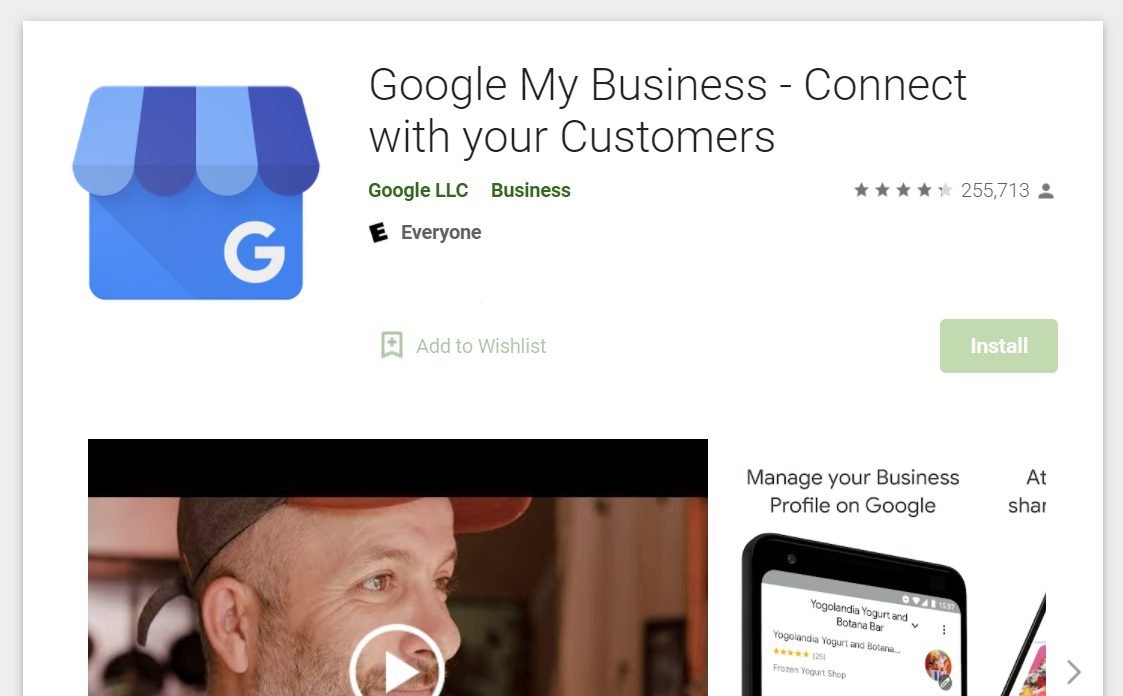 With the GMB app, you can conveniently do the following:
Update your business information ( hours, location, contact information, and description)
Create posts and upload photos
View search insights
For more information, check out Google My Business Help.
Wrapping Up
As we take on the road of the digital world, problems such as finding a place to eat, hang out, and tour can be solved with just a click. But don't let that click lead to anything. Make your business more searchable with Google My Business!
Follow the steps mentioned above to create your account and be part of the listing.
If you wish to know how Google My Business Account looks and how it will help your business, don't miss our next blog!
Learn more about digital marketing strategies and concepts here on Emerge. Search through our list, and you might find what you're looking for. Schedule a call with one of our GMB specialists.