Facebook Ads Manager: New Improvements That You Can't Afford To Miss
A cold breeze is here! Christmas lights and sweet carols are starting to dominate the city where I live and… you have just a couple of months left to meet all the goals for 2017.
How are you getting ready for the busiest time of the year?
Often, when marketers are glued in their campaigns this Q4, sometimes they're having a hard time to find all the latest updates in one place — especially the part of the Facebook where we get all the data to report to a client or boss. It's the Facebook Ads Manager.
We selected the top new features you can start using now. I personally use them so I would know how important they are for you.
So make yourself comfortable, get your favorite hot or cold beverage and keep on reading!
Facebook is giving you the data you need at a glance
Facebook just added Creative for determining the winning image, video, gif, etc.
Facebook added View Chart to show you the core demographics instantly.
Facebook just released the Power Editor as the default view.
Sounds interesting? Let's dig deeper…
Facebook Update #1: Gives You The Data You Need At A Glance
Good news! The first Facebook feature on our list improves tracking and reporting! Facebook tracking and reporting are getting better and better: easy to compare the result each metrics.

You can even see how the campaigns perform based on age, gender, hour, and location.

Facebook Update #2: Find Out The Winning Creative
Split testing the creative and determining the winner isn't easy if you are managing a lot of campaigns.
Facebook just rolled out the Creative feature.
This new feature will be perfect, especially if you want to see ALL the creatives you're using in your campaigns.


You can also break it down by Ad which means you'll see which creative performs well in your targeting.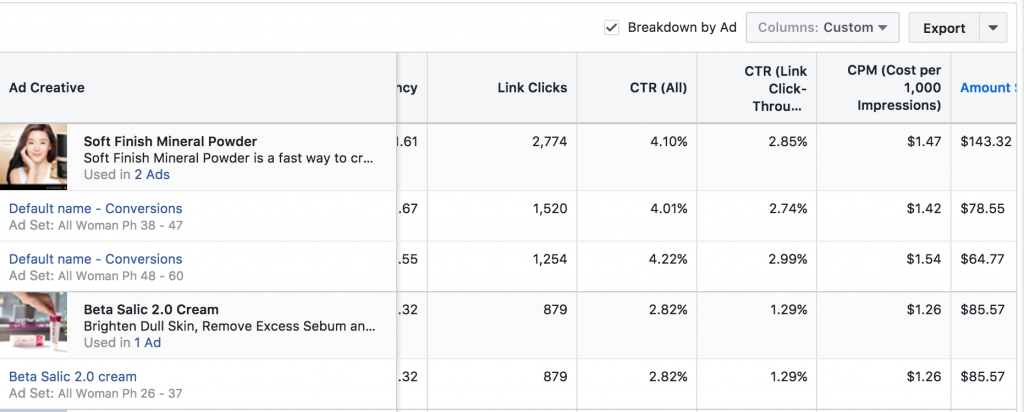 Facebook Update #3: View Performance Instantly
We all know how segmenting the target audience is powerful to your campaigns. In fact, Facebook added a feature where you can check the core demographics of the Campaign, Ad Set, and Ad views.
Instead of using the Breakdown function, you can just easily view the performance, core demographic, and placement.
Personally, I usually want to check the performance by age, gender, and placement so I can make smart decisions for my targeting.
I consider this as a big improvement that will help marketers during their journey!
Facebook Update #4: Ads Manager And Power Editor Rolled Into One View
When this change is launched, everyone in Facebook marketing community is kinda appalled. Marketers are asking how can they bring back the default to Facebook Ads Manager (maybe because they are used to it).
Now, it's official. Facebook makes the Power Editor as the default view… and if you want to go to Ads Manager, you need to switch it.
I believe there's a reason why this happened. Facebook is gradually making the available features you see in Ads Manager to be present in Power Editor.
This is a great news because before there are things you can't do in Power Editor that you can do in Ads Manager and vice versa. Now, you can do them all in Power Editor.
Facebook Ads Manager Improvement Wrap Up
As a marketer, we want to see the performance of our campaign, if they're working or not.
Having a full-featured and easy to navigate Facebook Ads Manager will definitely make your life easier.
So you can focus on creating ads and optimizing them.
How are you currently maximizing your Ads Manager? What feature have you seen work (or not)? We would love to hear from you in the comments below.