Emerge Survive and Thrive: The Hows and Whys in Social Media Planning
To aid businesses on digital marketing and social media content, Emerge conducted its second Survive and Thrive webinar with the topic: "A Beginners' Guide to Social Media Planning," presented by Fenina Isabel Gerero, an Emerge Jr. Brands and Communications Specialist, held October 27, 2021, through Facebook live.
The webinar discussed how digital marketing would help business owners— particularly beginners— to maintain and promote a successful business amid a pandemic and how they can continue to grow afterward.
Fenina Gerero elaborated on the role of digital marketing in helping businesses of all kinds to grow, even those that are facing stiff competition, and provided a sneak peek into the whole creative and business process of formulating a social media plan before, during, and after, along with the essential practices needed for it.
It also features creative ideation and social media posting strategies for trend and online identity build-up.
"Everybody is on social media, and promoting your business there exposes it to a bigger audience reach. This opens up your business to opportunities ranging from customer interactions, product promotion, and reviewing your performance. Besides being a platform for communication, social media also provides tools for analytics of your business' digital performance," said Gerero.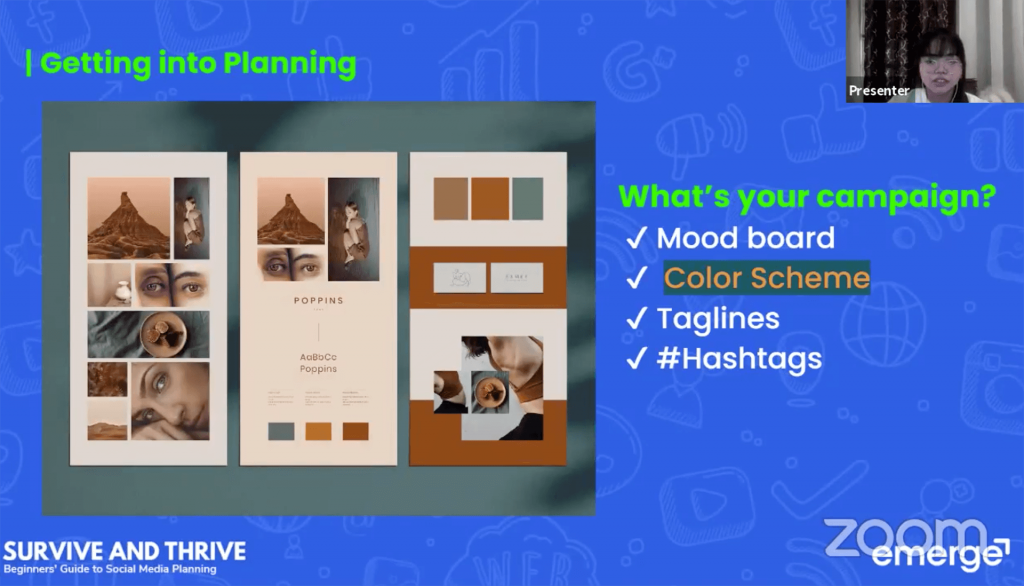 "It is important to learn about social media planning because it means thinking ahead for your social media campaign so that the delivery is smooth. It also prevents your posts from being too redundant, which can result in a decrease in audience engagement," she added.
During the webinar, Gerero pointed out that going digital makes things easier, faster, and more convenient for reaching more people. A benefit for the business and its customers, encouraging businesses, specifically bookstores and libraries, hospitals, and agricultural sectors, to go digital.
This aligns with the approach of "Digital First" in modern times, an initiative that Emerge embodies.
Following the discussion, a question and answer session transpired to help audiences grasp the information and understand it better.
This is the second of the three webinars under the Survive and Thrive series from Emerge aimed at providing digital marketing education and improving literacy on social media management in the light of the pandemic and the new normal focusing on healthcare and food-beverage industries.