25 Great B2C Facebook Ads That Will Inspire You
Are you looking for inspiration to create your next Facebook Ads?
Facebook Ads is a great tool for consumer sales and branding, whether it's to sell a new car, a new smartphone, or a new app.
B2C marketers' end goal in using Facebook Ads is to direct followers over to their website, community engagement and involvement. They want to get plenty of likes, comments or shares on their ads. They mainly use Facebook marketing to promote brand awareness and get people talking about the brand.
Whether you're a small business or global brand, you'll learn how others achieved real results with Facebook marketing.
In this blog post, you'll find the 25 ads aiming for different audiences and objectives, from Mobile App Promotion, to Brand Awareness to Increase Local Sales. You'll get inspired by compelling creative ads on Facebook from small, local businesses.
Let these B2C Facebook Ads help you create quality ads for your business.
So without further ado, let's get started.
25 Great B2C Facebook Ads That Will Inspire You
Promote Mobile App
Facebook aims to help companies to grow their audience and increase sales for their apps. Whatever your goal is – to drive mobile app installs, conversion and engagement, Facebook marketing will help you achieve them.
The ad examples below will give you idea how to execute your ad in terms of creative side.

Every Day! Rewards

Every Day! Rewards is a campaign of 7-Eleven. They make it clear that when you download the app, you'll get exciting rewards at your fingertips. The urgency of receiving what you get from the app is a great idea.

Lamudi: Real Estate for Sale & Rent

Lamudi, a property search portal launched a mobile app that helps you find the best properties available in the market. The ad image, with a shot of their dashboard in action, shows you exactly what sort of interface you'll be working with when you sign up.
Foodpanda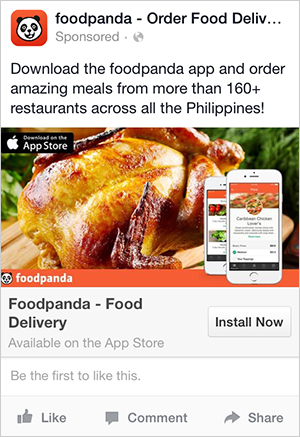 Who doesn't want to have their favorite food delivered at their doorsteps? Foodpanda does that for you. They partnered with 160+ restaurants across all the Philippines for you to order amazing meals.
SanMig Light On All Night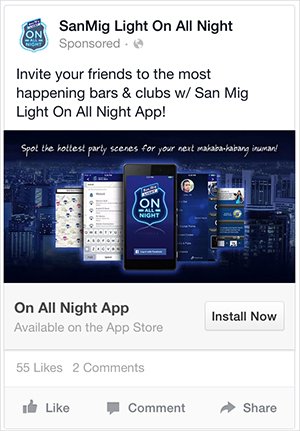 If you are a certified partygoer, then this SanMig On All Night is worth to download. SanMig, a liquor brand created an app to spot the hottest party scenes.
Monterey Meat Master
It's the first time we see a meat shop to have an app. Good move Monterey! Their ad is directed clearly to people who love to cook meat. The image ad showcases the recipes you can try in your own kitchen.
Brand Awareness
Facebook brand awareness objective focuses on maximizing the amount of people who will recall your brand after viewing your ad. It is best aligned with goals to increase the recall of your brand, a specific product or service with your audience.
Check out the ad examples below to find out how the creative elements of online ads impact brand awareness.
TRESemmé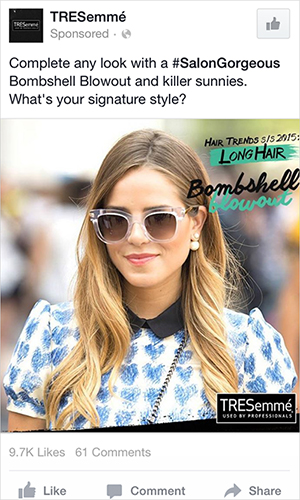 TRESemmé, a leading hair expert company, uses a famous celebrity which hits right at their target audience of hair conscious women.
Eden Cheese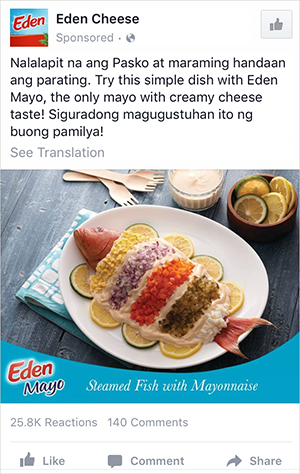 Eden Cheese keeps things super simple with this ad for a delicious holiday recipe. Their text tells you exactly what is coming up. This ad gathered over 100 comments, showing the power of a clear, straightforward value proposition.
Cadbury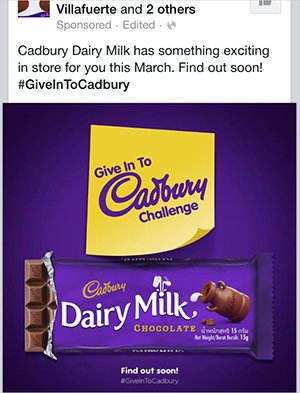 Facebook ads are a great platform to provide sneak peek of your product. Cadbury's ad image stands out to your newsfeed because of the background color – purple which is a cool tone and stimulates appetite.
Enfalearn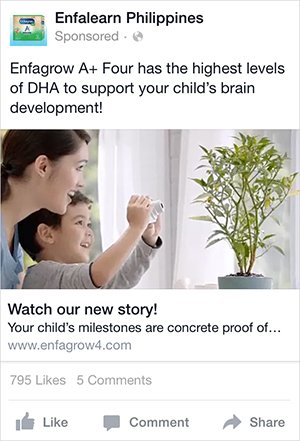 Enfalearn Philippines will definitely get your attention with this ad. The image ad features a mom and a kid taking a picture of a plant. They do a nice job with the headline of a "Watch our new story" to grab your attention.
Chevrolet Philippines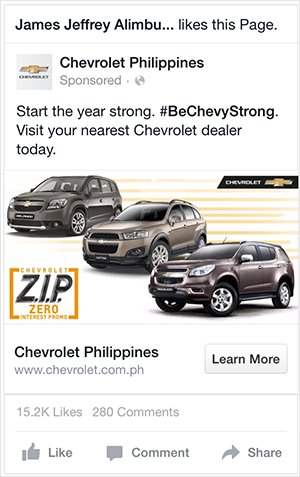 Chevrolet knows exactly who they want to target: people who love cars, especially Chevrolet cars. They put a #BeChevyStrong which encourages people to participate. You'll see that they value their dealers with their call-to-action.
Nestle Fruit Selection Yogurt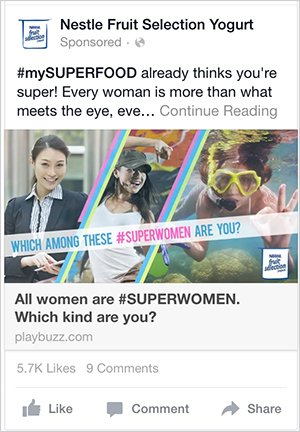 As Beyonce's lyric of her popular song, women run the world. It's how Nestle wants people to perceive that women are super. The image ad encourages women to participate in the Q & A. The headline is straightforward and incorporates the #Superwomen.
Shopify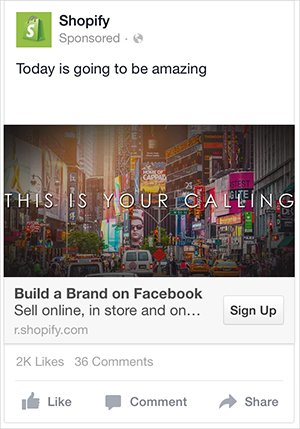 Who doesn't know Facebook? Shopify leverages their reputation to draw your interest in their ecommerce shop technology. Even though the image doesn't really reinforces the idea – it sparks interest. There's no magic here, just a busy street.
Lady's Choice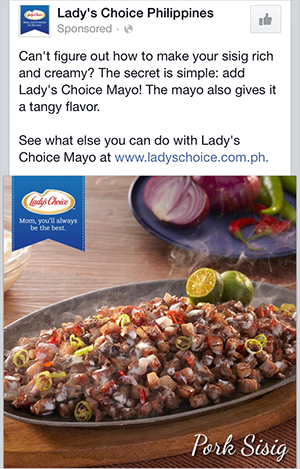 In the popular book of Gary Vaynerchuk, 'Jab, Jab, Jab, Right Hook', he emphasizes the importance of giving more value than getting benefits. This ad of Lady's Choice Philippines shows you how to do that.
Malayan High School of Science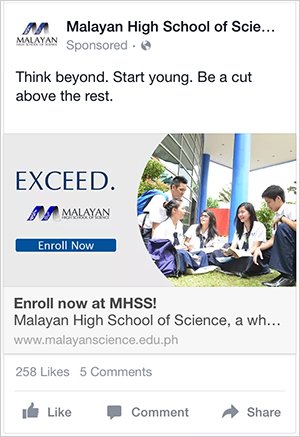 Malayan High School of Science does a great job making it crystal clear what you're getting. Their headline 'Enroll now at MHSS!' gives you an idea of what you need to do next without much effort. The image does a nice job of fitting a picture of happy students and call-to-action while still being aesthetically pleasing and simple.
Belo Essentials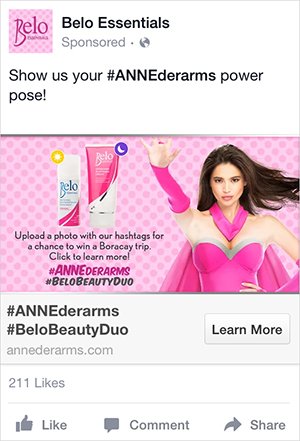 Let's be real – you're going to stop and look at this Belo Essentials' ad because it has a girly image featuring their famous celebrity endorser, Anne Curtis. The ad gives you a great reason to click it – a chance to win a Boracay trip.
Century Tuna Superbods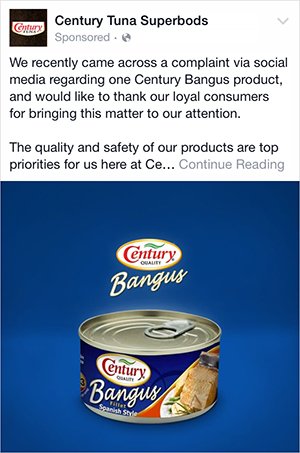 Kudos to Century Tuna Superbods for addressing a complaint through a Facebook ad. Their image and text are totally in sync. They show that Facebook is not just for direct response advertising but also for customer service.
Increase Local Sales
B2C ads get to the point – they have a product to sell, and they'd like to get you to try it. Having the right audience, strong value proposition with a great image, you'll be able to drive sales to your product.
Head and Shoulders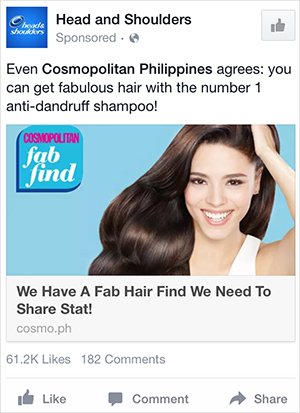 Facebook ad doesn't have to be a direct brand promotion. You can also advertise a piece of content. Head and Shoulders features a Cosmopolitan's article to promote their product. You'll get a content jampacked with awesome hair tips.
Microsoft Lumia Philippines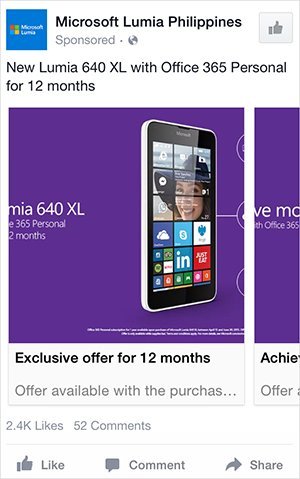 Microsoft Lumia Philippines doesn't need to settle with just one format of Facebook ad. They use a carousel ad format to showcase the benefits of the new Lumia phone. It's one thing for a company to tell their new product in a different perspective.
Ambipur Philippines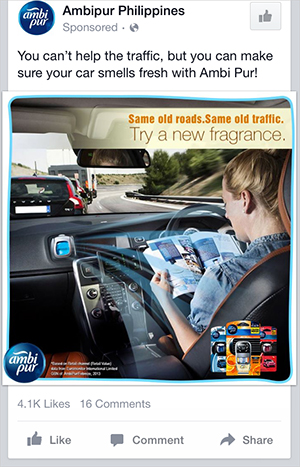 Want your car smells fresh when you're stuck in traffic? Ambipur is the right product for you. Their ad showing an image of a person stuck in traffic is quite cool. It's a slick, attractive image that's enough to get you to click and learn more.
Dove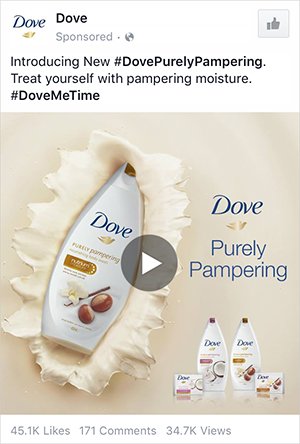 What Dove liquid soap can bring to you? It's purely pampering. Meanwhile, they're using a video ad which undoubtedly effective because they have over 45 thousand likes, 171 comments and 34 thousand views.
Manila Wine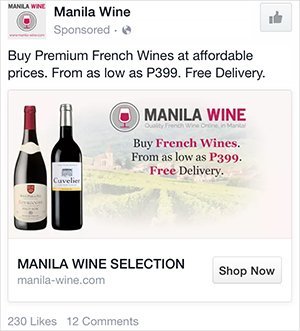 Manila Wine, an online wine delivery shop, drives home two key values in their ad: affordability and free delivery. "Buy French Wines. From as low as P399. Free Delivery." and with a well-chosen call-to-action, you'll probably be tempted to find out what those amazing things are.
Tide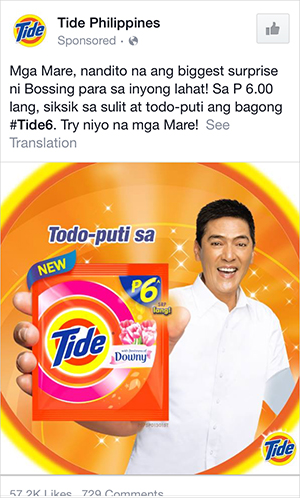 Tide goes friendly and personalized with this ad. They also use a local language in the ad image to tell you the benefit you'll get with their product – "todo puti".
Oral-B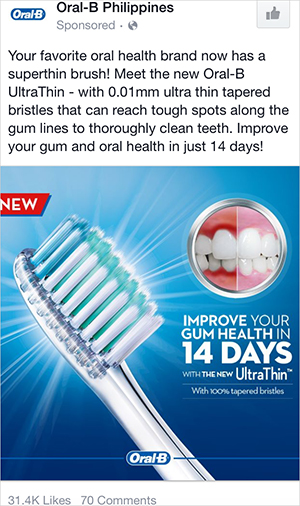 It's not hard to figure out what Oral-B Philippines offers. Their ad image shows the product and the benefit you'll get. It's a great image that's definitely going to make you stop and take notice.
Cheeze Whiz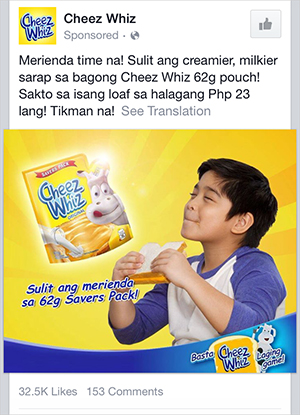 Cheeze Whiz does a nice job of demonstrating the emotional effect of getting their product. They also emphasize the improved Cheeze Whiz within their ad. It would be great if they have a call-to-action to cap off this super-actionable ad.
Converge ICT Solutions Inc.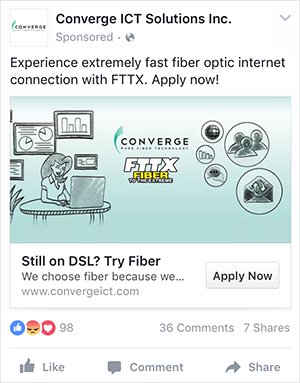 Do you think you can experience extremely fast fiber optic internet connection with DSL? Converge, an internet service provider, agrees. They designed their product precisely for audience who don't want to experience bad internet connection. In this ad, they feature a friendly cartoon of woman in front of computer who probably a business owner, aiming squarely at a particular buyer persona.
Did you get your dose of inspiration? Which one did you like the most? Do you know any other inspiring and remarkable Facebook campaigns? Let us know!